2000 MIles for Rotary 2000
As a challenge during my presidential year, my wife Debbie and I will be running, walking, cycling or swimming 2,000 miles between us during the year.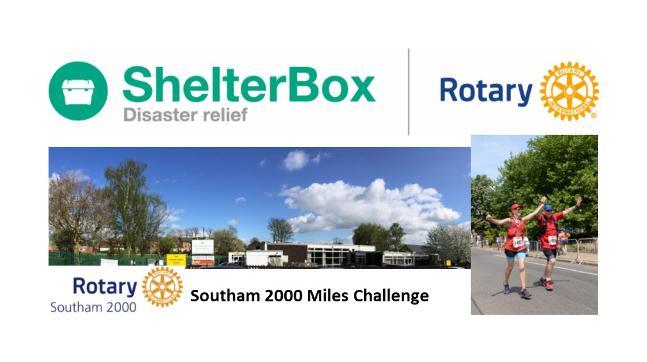 As well as helping shed the additional pounds Rotary events will put on me, I want to raise funds for two causes very close to both myself and Debbie.
One is ShelterBox - an international disaster relief charity making a real difference to families who have lost everything in a natural disaster.
The second is a community centre in Southam, the Graham Adams Centre - which Debbie and I have both supported for a long time. It reaches out to all members of the community and provides a home for, amongst others, Foodbank, Southam Youth Club, Messy Mealtimes, Southam Cinema, Bright Horizons Nursey, toddler groups and many others. It depends entirely on local people using it and is run by a team of volunteers.