EVENT DETAILS

How to Enter
Results Base - Rotary Elgin Triple Challenge 2022
Spaces are limited, early entry is advised.
Rotary Elgin Triple Challenge 2022
Following our success and feedback from 2019, Rotary Elgin Triple Challenge will be held once more in 2022. It includes a separate swim, cycle and run.
As an individual you can enter 1, 2, or 3 events or as a two or three person team.
For each event completed you will be rewarded with a section of our bespoke enamelled medal designed especially for the event.
Complete all 3 events and complete the 60mm Interlocking Diameter Design.
Swim - Saturday 26th February 2022
Cycle - Sunday 24th April 2022
Run - Sunday 5th June 2022
COST
Triple Challenge (Individual) £50 plus processing fee
Triple Challenge (Team) £54.50 plus processing fee
Single Events: Swim £20, Cycle £20, Run £14.50 (all plus processing fee)
CHARITY
On this occasion there is no requirement to raise sponsorship, we have priced each event to cover costs and with the help of Corporate Sponsorship any surplus monies will be donated to local charities.
In 2019 the following clubs received donations: Active Gymnastics, Pinto and Lossiemouth Coastal Rowers.
VIRTUAL OPTION
If a date does not suit you please contact us about a virtual option. Complete our route at your convenience and submit your Strava or other data for verification to receive your medal.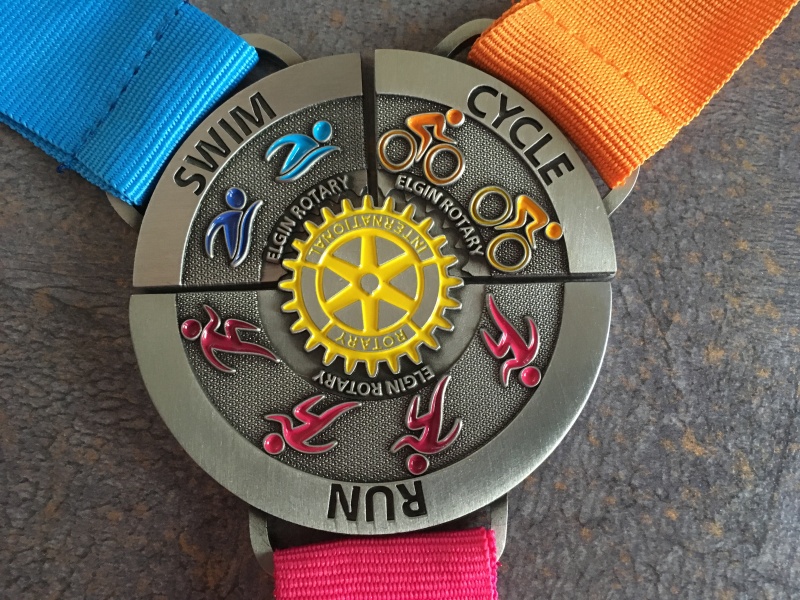 THE EVENTS
SWIM
Swimming in lanes of up to 4 persons, you will complete your 800m distance, we recommend you use a front stroke style (breast stroke or front crawl) for safety and comfort. The event will be timed for your personal records. You will be required to give indication of time expected to allow placing with similar swimming standard, maximum allocated time slot 1 hour.
Lossiemouth Pool from 2.30p.m. to 4.30p.m.
Virtual Option – Should our date and times not suit you, you can opt to complete this event in your own time and submit your timings. Evidence of your swim to be submitted by 6th March 2022. You must register for Virtual Swim in advance to secure your place and medal.
MFTC members should select Virtual entry, their club will advise arrangements for timing.
SWIM SPONSORED BY



CYCLE
50 km route on minor roads
Starting at Miltonduff Hall on the edge of Elgin, this 50km route explores some of the quieter roads around Mosstowie, Pluscarden, Dallas and Kellas. The ride has been designed to be challenging yet enjoyable with a mix of climbs, descents and nice long (flatish) sections. The event will be timed for your personal records.
What do I need to enter the cycle event?
1. A roadworthy bike (mountain bikes and hybrids are acceptable, sorry no e-bikes, these times will not be valid)
2. A recognised cycle helmet.
Race Start 10.00 a.m.
More information will be posted here in due course.
Route Junctions and Directions - 24th April 2022.pdf
RUN
A 5 mile run with the River Lossie close by, this route will take you past, over and under several bridges historic and modern that provide links over the river. Starting as a fairly flat section in Elgin Cooper Park, heading in an easterly direction past Elgin Cathedral and over the Landshut Bridge, returning to the park before heading westerly via the new cycle path, around Morriston Playing Fields, out at Oldmills, climbing up Jock Inksons Brae and on to Sherrifmill Bridge, returning back down to Oldmills, turning left and gentle climb to the Bow Brig, along to Elgin Academy then down into Morriston before returning along the cycle path to finish at Cooper Park. The route is mainly paths and minor roads which will be open to all users. The event will be timed for your personal records.
Run Start 1 p.m.
Route map from Strava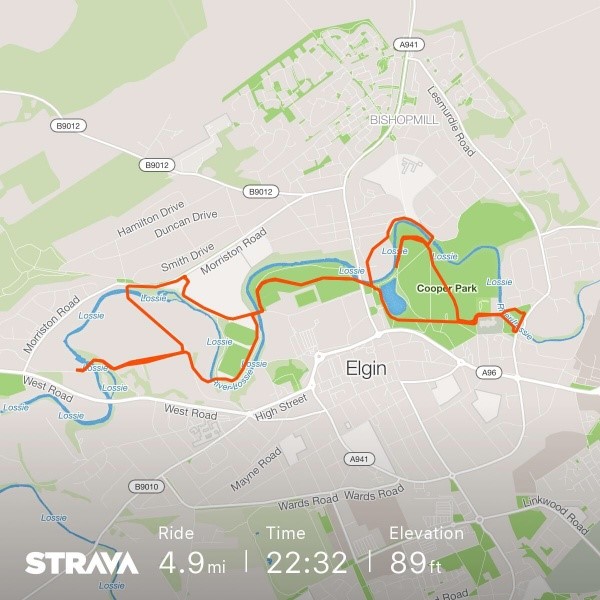 RUN SPONSORED BY


CLUB SUPPORT
We are grateful to Moray Firth Triathlon, Elgin Cycling Club, Moray Road Runners and Elgin Park Run
for their support.