Storrington Rotarians raise emergency funds for the Cyclone IDAI Appeal
Sat 30th March 2019 at 9.00 am - 5.00 pm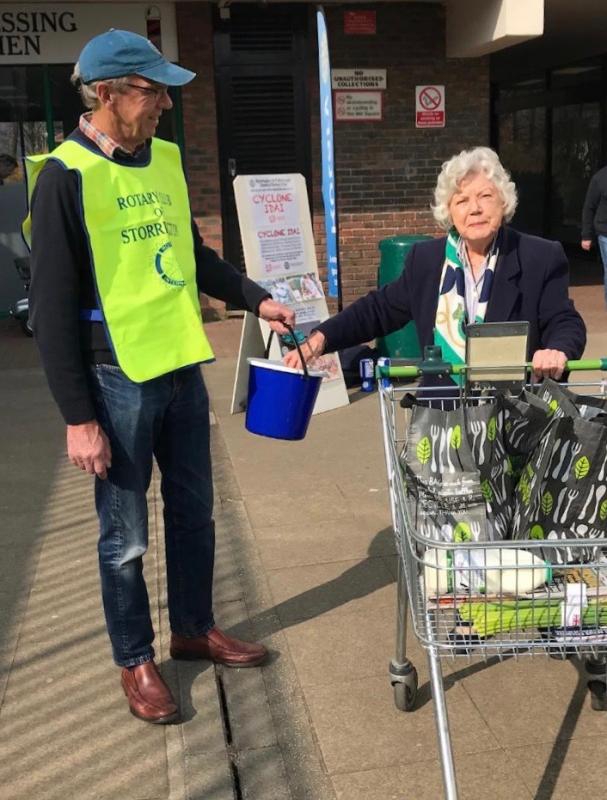 Cyclone IDAI has left a trail of destruction in Mozambique, Malawi and Zimbabwe. Aid workers including Rotary International are working to get help, food and water to desperate survivors.
Storrington & Pulborough Rotary Club members reacted quickly by collecting £481 in Old Mill Square, Storrington on Saturday. This was made up by the Club to £500 which went to the Disasters Emergency Committee for distribution where needed.
The Rotary Club also sent £1,500 to ShelterBox - a Rotary partnership that gives support to devastated communities and families - to fund Three ShelterBoxes that include family-size tents, water storage and purification equipment, thermal blankets, and cooking utensils.
Rotary President Penny Barnes thanked Storrington shoppers for their support for the appeal: "We have all been moved by the plight of the people affected by this disaster and thanks to the generosity of local folk in Storrington we have been able to provide some small humanitarian assistance to this devastated region."
Photographs:
Rotarian Tony Vaughan taking a donation from a Storrington shopper.
Rotary ShelterBoxes for stricken families.