Pride of Somerset Youth Awards 2019
Do you know a young person who has done something to make us all proud? Be it an academic or sporting achievement, an act of kindness or courage, then nominate them for a Pride of Somerset Youth Award.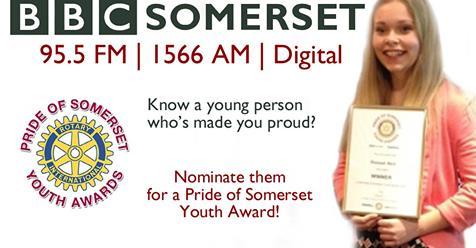 Do you know a young person under 20 who lives in Somerset and you are particular proud of what they have achieved?
They may have excelled in Sport, Music, the Arts or Academically; helped raise money for charity, caring for others, spent time volunteering and made a particular impact in their community. They may have overcome an adversity either physical or personal or they may have undertaken a one-off act of heroism.
Whatever exceptional thing they have done, if you think they deserve recognition then make that nomination today. If you are proud of what they have done then all of Somerset will be proud.
Send the nominee's full name, age, school/college, postal address and a contact phone number with a maximum of 200 words on their achievements to somerset@bbc.co.uk putting' Pride of Somerset Youth Awards' in the subject heading or post your nomination to:
Pride of Somerset Youth Awards (PoSYA)
BBC Somerset,
Winchester House,
Deane Gate Avenue,
Taunton
TAS1 2UH
The deadline for nominations is Friday 12th April.
The Awards evening will be held at Bridgwater and Taunton College, Taunton on Friday May10th when BBC Somerset's Breakfast presenter, Claire Carter and the Mid- Morning presenter Simon Parkin will be hosting the Awards ceremony.
The Awards are organised by BC Somerset, The Rotary Club of Taunton, Bridgwater and Taunton College and the Somerset County Gazette series of newspapers.