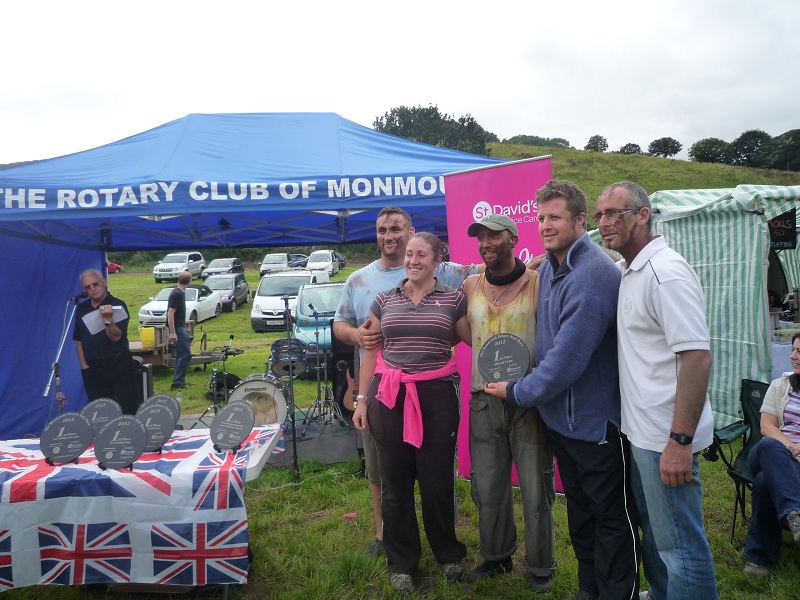 We are people of action: projects include improve the appearance of Monmouth by adding a green wall to the Blestium street car park and running events like the annual Raft Race and Model Railway Exhibition that draw visitors to town as well as raising money for causes like St David's Hospice. Raising money for Cancer research with the annual Walk the Wye and Community Draw are other events that members have developed over the years. Then there is the every popular Santa's Sleigh each Christmas with a street collection.

David Forbes
I was introduced to Rotary 30 years ago when I lived and worked in Banchory, Scotland. I was invited to join and I was keen to be able to put something back into the town that had supported me in business since 1972. I enjoyed the fellowship and the great sense of achievement in belonging to Rotary.
When I moved to Monmouth some 15 years ago, I joined the Monmouth club. I personally get a great deal of satisfaction in getting involved with all our fundraising activities and events, which, enables us all to put something back in to the community in which we live.
Jacqui Skone
The reason I joined Rotary was because I believe in power through unity. I was teaching in a socially deprived area and although I tried to get involved and help the youngsters I felt I wasn't making much of a difference in the community. Whereas, together in Rotary we can make a much bigger difference both locally and worldwide.
Peter Davey
I joined to meet people locally but, in addition, Rotary has provided many unexpected opportunities for Sandra & I. As a result of joining we have met a great group of local people and enjoy our local club activities but have also taken part in interesting Rotary activity all over Great Britain & Ireland and several other countries. We have met some terrific people, learnt a great deal and been able to practice new skills . All far beyond our expectations when I joined. Within a truly world wide organisation like Rotary so many opportunities are there to be taken if you wish.
Pete Walters
I joined Rotary many years ago partly to Business network as well as to take part in activities that were fun and would benefit others in the community.
Have enjoyed using my skills to continue putting something back in society and, now it is a smaller area, have made no end of contacts and friends in all walks of life, as has my wife.
Regular contact with fellow members pursuing like minded activities has generated great banter and considerable satisfaction from helping others "
Norman Williams
I was introduced to Rotary by a friend over 10 years ago. Initially I attended a number of weekly meetings to see what it was all about. I was already enjoying assisting with several voluntary organisations, but soon realised that Rotary offered additional opportunities to help those less fortunate than myself. Monmouth is a mixed gender club. I was welcomed as a member and very much appreciated the informality of Club and the opportunity to get involved in fund raising projects.