Our annual lunch provides a fun opportunity to establish and maintain links with our supporters and collaborators working with young people across the community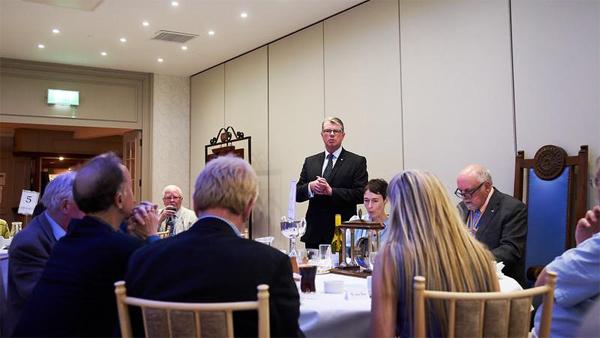 News and updatePlans for 2019-20
Following on from this year's lunch ...
Community Lunch 2019
This year's Community Lunch, held a the Orwell Hotel on 20 June, was a great success with some thirty guests attending. Thanks to the energy of Rotarian Andrew Rowdon and the support of individuals and organisations across the community, there was much to celebrate.
After an excellent lunch, Andrew introduced the guests many of whom had been instrumental in the success of this year's youth development projects. Opening his review of the year's achievements, Andrew emphasised the importance of confidence building. As he put it, "we can't teach anyone how to be confident but we can try to give children and young adults opportunities to find and show their confidence."
Last year's projects included football tournaments hosted by ITFC, and a "Kids Kitchen" using the facilities of Felixstowe Academy and the Yeo Group. These are expected to continue. Projects in planning include an athletics coaching club, and children's activities in association with Art on the Prom and Felixstowe Book Festival. And with the focus on skills for the workplace, Andrew is seeking support for a Kids Media initiative based on the umbrella website operated by the seven primary schools in the Felixstowe area.
The Club also sponsored three young people with contributions towards their sporting expenses: Beth Young who now swims for the county and is competing in the Nationals this summer, Paul Waring our deaf who golfer who won the European and the world championship last year, and Sam Walsh now selected to play for the Junior National hockey team. And on the theatrical front, three students were sponsored to attend West End Week; we are hoping to sponsor three more students this summer.
Andrew concluded the proceedings by presenting a cheque for £1500 to Mike Paper & Anna Boulton representing One for All. The One for All charity supports children and adults with special needs in the Felixstowe area and was chosen as the prime beneficiary of this year's Fun Run to support their upcoming Ball.
Thanks must go to all our supporters within the community without which none of this is possible. But few could fail to be impressed by just how much Andrew Rowdon has achieved since he launched the Youth Development project this time last year.
---