Presidential Handover
Tue 25th June 2019 at 19.00 - 21.30
Malcolm Collins took over as President of The Rotary Club of Haddington for 2019/20 from outgoing President Alan Dunton at our handover meeting at Haddington Golf Club on Tuesday 25th June.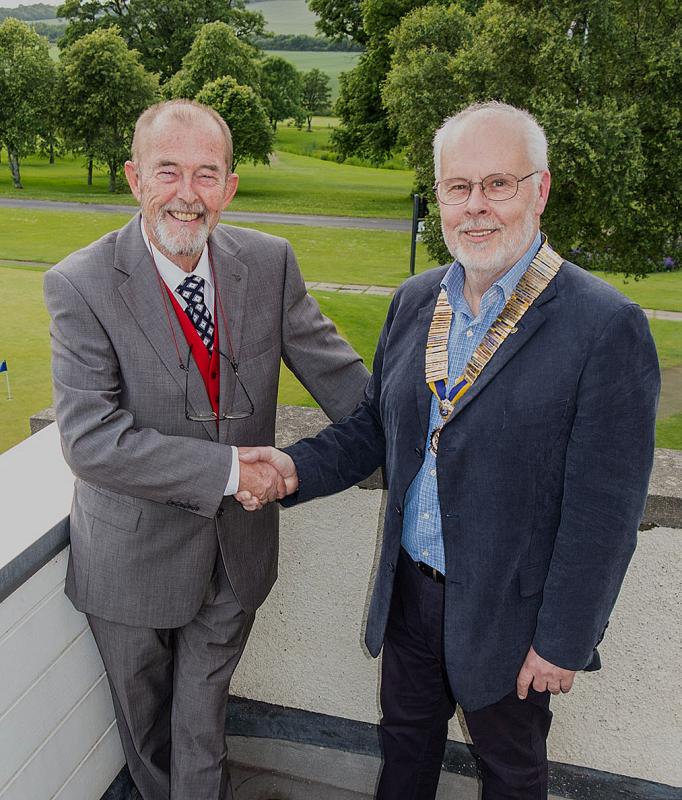 President Alan reviewed his year in office and entertained us with a song and a poem. He thanked everyone for their tremendous support in making his year a successful one in which our activities made a real difference to our local and international community. He was also very grateful for the fellowship shown to him by members and their partners.
As a final activity before handover, President Alan was delighted to present the Silver Quaich for Rotarian of the Year to Gordon Boyd in recognition of his outstanding work on our youth projects throughout the year.
President Alan then formally handed over the chain of office to Malcolm and wished him every success in his year as President. In accepting his chain of office, Malcolm thanked Alan and his team for their hard work in the past year and also thanked him for introducing him to Rotary and inviting him to become a member of The Rotary Club of Haddington in July 2016.
President Malcolm thanked members for electing him as president of The Rotary Club of Haddington for 2019/20 and felt honoured to be serving as President in a club with a proud tradition of service to the community and celebrating its 60thyear in 2020.
He stressed the importance of working together, as a first step, to produce a three-year strategic plan to develop the club in some key areas.
• Increasing membership and retaining members.
• Setting clear goals and celebrating success.
• Introducing a more flexible approach to appeal to younger members
• Ensuring we always have active projects to engage existing and potential members.
• Collaborating on projects with other Rotary Clubs and community organizations in the area.
• Raising the profile and awareness of Rotary within the local community
He looked forward to working with existing members, and hopefully some new members, in the coming year to deliver some of these changes.
To round off the evening, members and their partners enjoyed a hot buffet, drinks and good company.