Barrow, Furness & South Lakes Samaritans
Wed 25th September 2019 at 6.30 pm - 8.30 pm
Branch director Cath Bland explains about this very valuable service
Club members please log in for more information.
GOOD Samaritan Cath Bland only volunteered her services to the crucial support organisation in Barrow three years ago.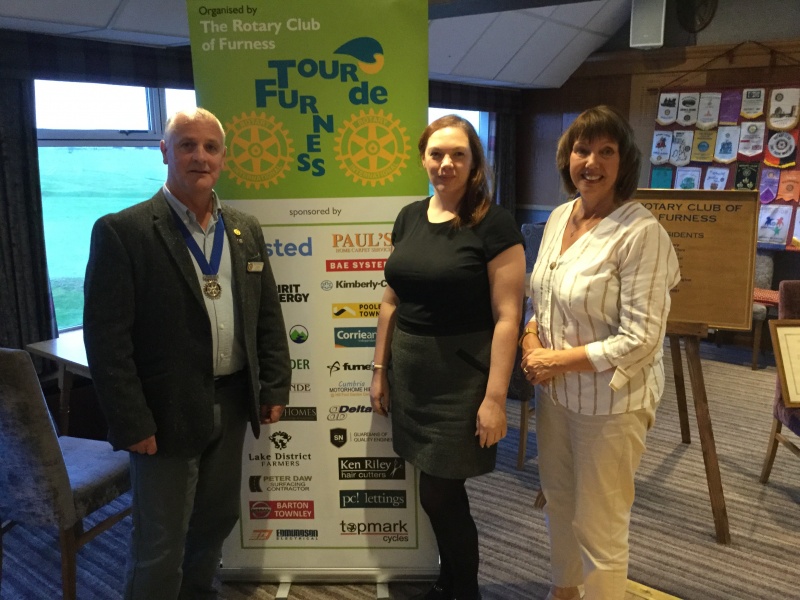 PE Martin with Cath and host Rtn Julie Kirkham.
Within 18 months Cath found herself appointed as Branch Director of the Barrow, Furness and South Lakes Samaritans.
Cath, who is known as Cath 42 within the organisation, enlightened members of The Rotary Club of Furness about the important role their volunteers undertake in a country where one in 15 adults have attempted suicide, which is the biggest killer of men under 50; of women aged 20-34 and of all people under 35.
Someone dies from suicide every 90 minutes and the Samaritans - founded in London in 1953 by Chad Varah - respond to a cry for help every six seconds. Cath pointed out that apart from the traditional telephone calls, Samaritans deal with texts, emails, face to face contact and will introduce web chat next year. The aim is not only to reduce suicide rates but also offer emotional support by listening and being non-judgmental.
Rotarians heard that the Hartington street office in Barrow, which opened in 1971, is manned 365 days a year with over 50 volunteers ranging from ages 21 to 91 and from all walks of life. Cath said the volunteers undertake nine weeks training and emphasised the fact that Samaritans do not offer advice or talk people out of taking their own lives.
The subject provoked some interesting questions and debate among the Rotarians with a vote of thanks given by speaker host Julie Kirkham.
Reported by Rotarian Graham Dixon
Photo by PP Peter Gardner PHF