News and updates
Polio eradication in Africa
Rotary members have played an invaluable decades-long role in the effort to rid Africa of wild polio. The World Health Organization (WHO) has officially certified that the Africa region is now free from wild poliovirus, signifying a major milestone in the battle to eradicate the disease worldwide. See details on the RIBI website.
And here Rotary's contribution is recognised in Parlament.
Award for contribution to polio eradication
Here we see Andy Miller on the left receiving a certificate from the District Governor Jonathan King in recognition of the club's significant financial contribution for the eradication of Polio worldwide.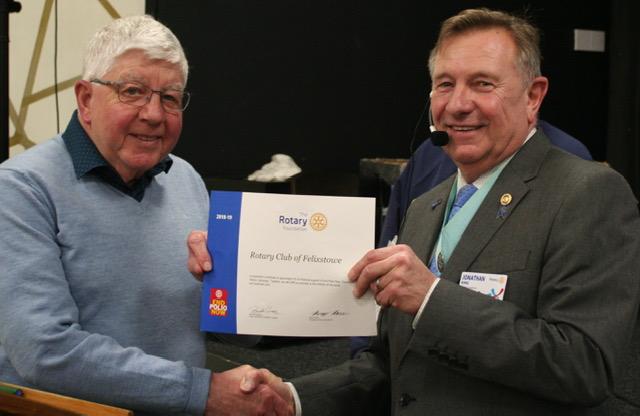 Music for Everyone concert contributes £3,600 to polio eradication
This years' Music for Everyone Concert raised £1,200. That's £3600 with 2 for 1 matching funding from the Bill and Melinda Gates Foundation.
See Bill Gates testimonial to Rotary