News and updates
Suffolk Age UK
At our meeting on 5 September, Lindsay Long gave a talk on the work of Suffolk Age UK. This is a local, independent charity which works to improve the lives of older people across Suffolk.
The organisation provides a range of services including befriending, benefits advice, transport and home help. The club will be pleased to make a donation.
Hope Trust
Paul Taylor gave a talk on the Hope Trust at our meeting on 25 July. This is a local charity working with older people which focuses on the relief of loneliness ...
The club is particularly mindful of the problem of loneliness across our community and was pleased to make a donation.
2018-19 Donations
Over the last financial year, the club has contributed more than £21,000 to local causes with donations of £1000 or more being made to:
Felixstowe Volunteer Centre
St Elizabeth Hospice
Junior and Senior Park Runs
Level Two mentoring programme
One For All (supporting children and adults wit special needs)
More Defibrillators for Felixstowe Sea Front
Thanks to the generosity of the Rotary Club of Felixstowe, Felixstowe Town Council has been able to install two further defibrillators along the seafront (outside the leisure centre and beside the car park at the end of Beach Station Road).
The kit is fully automatic and registered with the ambulance service, so emergency callers can be told the code and directed to the nearest one if required.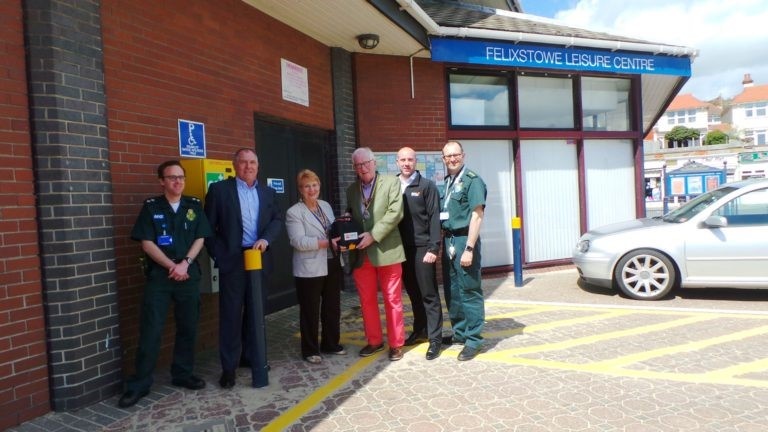 Photo shows (from left to right): East England Ambulance trainee, Roger Beaton, Mayor of Felixstowe 2015-16 Cllr Doreen Savage, Patrick Wroe, Jon Needle (East England Ambulance Service), Jonny Lowdell (Places for People)