Prior to last week's meeting, the "Golden Nail" winners from the Fourth Port Gala Day were presented with their prizea - a meal voucher for the Riverside Lodge Hotel.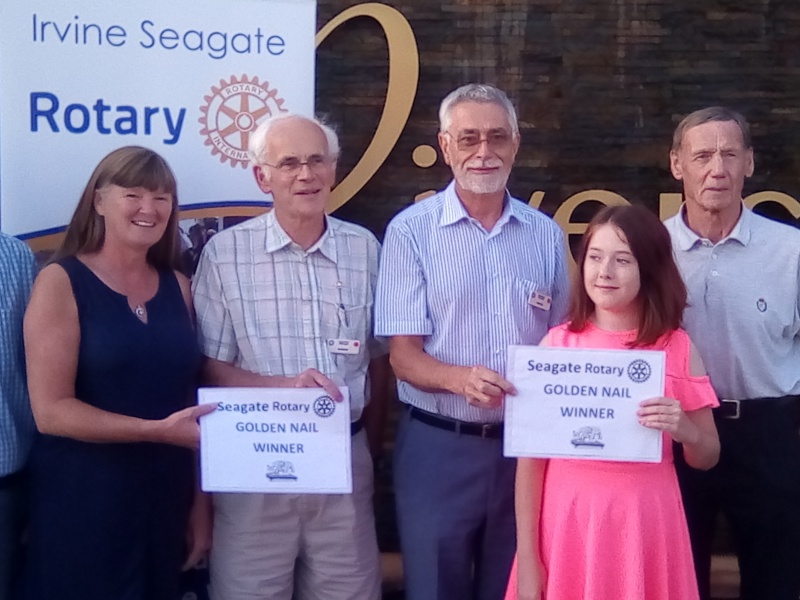 This Saturday, 7 September, Seagate Rotary will have a fund raising stall at the indoor car boot sale, organised by the Skinners Craft, in the Old Parish Church Hall. In the social calendar, Seagate will have a Pool competition in October, and a Safari Supper later in the autumn.


Seagate's speaker on Monday was former club member Bill Nolan, talking about his year as President of the World Federation of Burns Clubs. The Federation, based in Kilmarnock, has club and individual members throughout the world wherever the Scottish diaspora settled. Its aim is to increase the knowledge and study of Burns, and of Scottish literature and arts generally, and it has close links with the Scottish universities. It is particularly focussed on encouraging young people to appreciate the significance of the poet. Bill talked also about his overseas and domestic visits during his year as president and the enthusiasm he found for Burns' works wherever he went.
There were questions and discussion, and a Vote of Thanks was proposed by Jim Fairgrieve.