End Polio Now
How we are helping to eradicate Polio. Look at the pages below to see what Blairgowrie is doing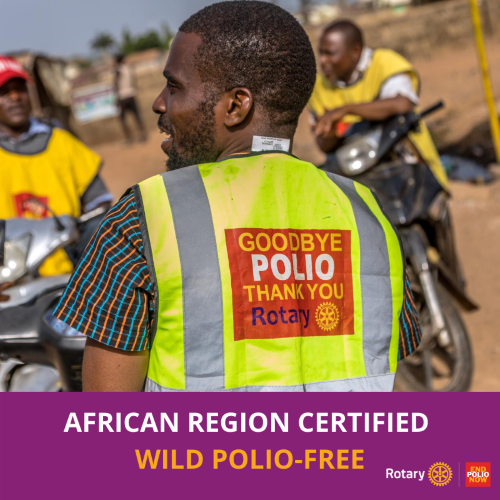 Since 1985, Rotary's key humanitarian priority has been to rid the world of polio.
25th August 2020: Its Official - Africa Region has been declared Wild Polio Free!!
Today, the World Health Organization's (WHO) Africa region, has officially been certified free from wild poliovirus signifying a major milestone in the battle to eradicate the disease worldwide.
This progress is the result of a decades-long effort across the 47 countries which make up the WHO's African region and now means that five of the six WHO regions, which represent 90% of the world's population, will be free of wild polio.
Rotary members have played an invaluable role in the effort to rid the African region of wild polio.
By raising funds for polio eradication, advocating with world governments and national and local leaders, and raising awareness, Rotarians have contributed nearly US $890 million to conquer polio in the region
Rotary spearheaded the campaign at a time when there were over 1,000 polio cases a day in 125 countries, paralysing and even killing children.
Today, the number of cases is down by 99.9%.
Over the last 30 years, Rotary has donated US$2 billion to the eradication effort and has protected over 2.5 billion children from the disease through vaccination programmes.
Inspired in part by Rotary's volunteer commitment and fundraising success, the Global Polio Eradication Initiative (GPEI) was launched in 1988.
This remarkable partnership which includes Rotary, World Health Organization, UNICEF, the US Center for Disease Control & Prevention and, more recently, the Bill & Melinda Gates Foundation.
Despite there only being a handful of cases left in the world, continued campaigning, health worker training and vaccination programmes are essential to stop the disease returning and ensuring the world is certified polio-free.
Rotary members continue to be key players in many aspects of the polio programme including on the ground in a number of countries as well as fundraising and advocacy.
Failure to eradicate polio could result in as many as 200,000 new cases worldwide every year within a decade.
Rotary members in Great Britain and Ireland have been huge supporters of End Polio Now and you can be part of making history.
Look at the following pages to see what the Rotary Club of Blairgowrie is doing.