Do We Have a Future Olympian Climber in Our Midst? (Images thanks to Bushfire Photography)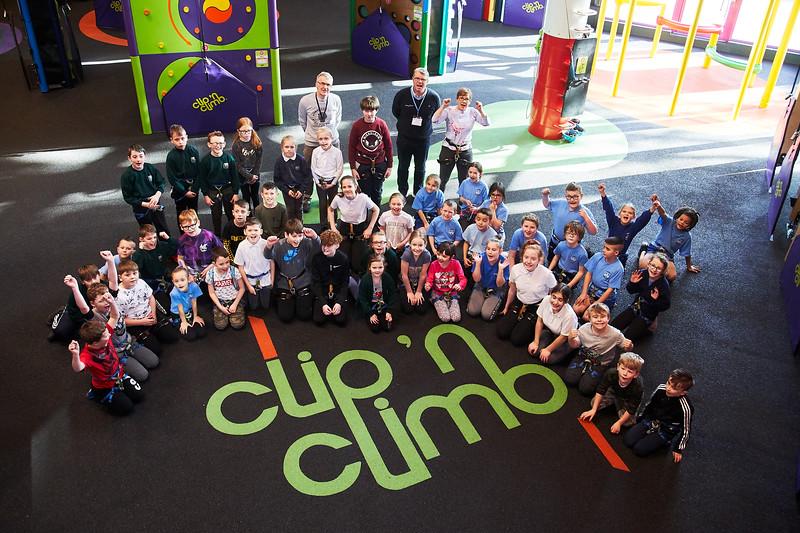 Great fun at Ipswich Clip n' Climb - 11 February 2020
The Rotary Club of Felixstowe along with Clip 'n Climb in Ipswich sponsored 60 children from the primary schools of Felixstowe for a session at the fabulous Clip 'n Climb centre.
The children all arrived early for a safety briefing and a video demonstration. They were all kitted out with a harness and then given full instructions and assistance to rope up to the climbing walls. Within 10 minutes the whole room was buzzing with children challenging themselves and reaching great heights (in-fact the centre has some of highest climbing walls in Europe). Whilst the Members of the Rotary Club looked on happily from the balcony, enjoying a great coffee with their feet firmly on the ground.
What was so lovely was seeing the children engaged - not just with the climbing - but with each other, especially as they were all from different schools. The children were so well behaved and rose to the challenges and did nothing but encourage each other which was heart-warming.
Mr Ashton from Langer Primary Academy school said "one of the children is usually very timid and usually says very little in class, but she was a demon on the walls and really came out of her shell - a joy to see"
Mrs Girling head teacher of SET Causton said "Watching the children push themselves and be able to concentrate in this way has been inspiring. The sheer delight when they completed the climb and the exhilaration when they shouted out 'I hit the button Miss' was just awesome"
Mrs Ross head teacher from Trimley St Martin Primary School (this certainly made us laugh) said " one of my children said the climbing was amazing, brilliant, fantastic, but she also said her arms ached so much now that she won't be able to do any school work this afternoon"
Andrew Rowdon who looks after youth development for the Rotary Club of Felixstowe said "what a fantastic set up and such a great opportunity for the children to discover new skills and challenges. In such a short amount of time they have overcome any fear or trepidation that they may have had. This will no doubt build their confidence and you never know, with climbing being introduced into the Olympics this year for the first time, it may inspire one of these youngsters to represent the UK in the Olympics in eight years' time. I would like to thank the teachers for supporting the event and of course Clip 'n Climb for hosting and co-sponsoring this venture with us."
Overall yet another success story for the Rotary club of Felixstowe and it's youth development programme.