Donate Now
You can donate to our Community Fund online. All donations will support individuals and organisations in the Felixstowe area.
If you are an eligible UK taxpayer and want us to claim the Gift Aid on your donation please put YES in the "Add a note" box and agree to share your mailing address with The Rotary Club of Felixstowe Charitable Trust.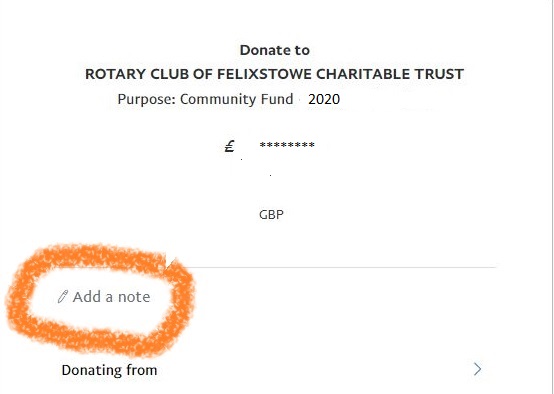 News and Updates
Our Work Goes On - August 2020
With the cancellation of our major fundraising events our resources are significantly depleted. Our focus will be to use these funds to support those in our community who find themselves in particular need.
Since March 2020 our club has provided funds to BASIC Life Charity to assist with their work in supporting the vulnerable and those suffering from food poverty. We have also made a donation to the Felixstowe Salvation Army Welfare Fund to assist them with their excellent work in supporting a number of local families who are in need of help.
In addition, we have set aside funds that can be used for making grants to individuals or families who are being badly impacted by the Covid 19 pandemic. We have recently approached four of the primary schools in Felixstowe to offer financial support through a small grants scheme to support needy families who are struggling to meet the essential needs for their children. Our support has been hugely welcomed and a number of grants have already been made, and we anticipate being able to help for some time to come in this important area. Also, as we believe that local Church leaders are often the ones with ears close to the ground, we have made it known throughout the local Church community as to how small grants for needy families can be accessed.
If you can, please donate to our Community Fund using our "Donate" button and for those who may have already done so, very many thanks for your kind support.