How long does it take for a church bench to wear out?

About 25 years it seems. The original bench in Cadeby church yard was donated by Market Bosworth Rotary Club way back in 1986 to mark the passing of Teddy Boston, Rector of 27 years. When Jane Hicklin told the Rotary club that the well-used and much-weathered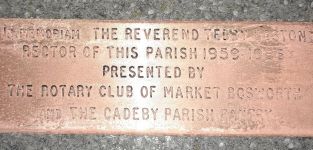 original, was no longer fit for purpose, today's members were more than pleased to come to the rescue with a replacement.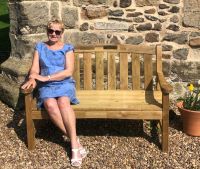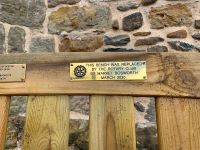 In the early days of the club we used to meet and dine in Cadeby village Hall. Cadeby Pantry were the team of ladies headed up by Teddy's wife Audrey, shown here, who catered for the club at their lunchtime meetings.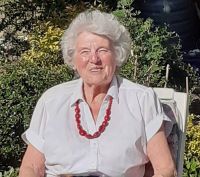 Look to the weather vane of the church spire and you will notice that it takes the shape of a steam engine.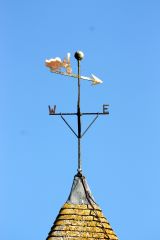 So what's the story?Teddy Boston loved steam engines and model railways. Rotarian Brian Cox has fond memories of taking his three daughters on the 2 foot narrow gauge railway that ran round the perimeter of Teddy's garden.
Teddy Boston was also the proud owner of a steam traction engine which he sometimes drove in and around Market Bosworth, usually still wearing his cleric's collar! Audrey told us that, on their wedding day, whilst most couples would be driven in a limousine, their vehicle of choice was Teddy's traction engine to tow their carriage!
A close friend of Reverend W Awdrey, creator of the Thomas the Tank Engine stories, legend has it that Teddy was the proud inspiration for the Fat Controller in the Thomas tales. Now that's a real claim to fame!