Our Weekly Meetings/ Phil Godfrey raising funds for APS Support UK
APS is an autoimmune disease that leads to miscarriages in women
Show related pages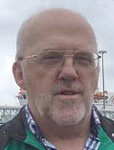 The speaker at Kendal Rotary's virtual meeting was Phil Godfrey from Solihull. He spoke of his project to raise funds for APS Support UK.
Antiphospholipid Syndrome (APS) is an autoimmune disease which affect the blood and its ability to clot normally. It particularly affects women aged 20-50 years and often leads to miscarriages. Its effects can be mitigated though early diagnosis which is often missed.
Having lost his wife through APS, Phil set off to walk the length of the country to raise funds, but his own health and other factors made this difficult. So he described his adventures of travelling round Britain by train. So far he has raised over £108,000.Part of this has been used as a training aid for GPs.