Club Annual Assembly and Handover
Incoming President Mike Parkinson welcomed 28 Rotarians to the Club Annual Assembly and Handover [courtesy 'Zoom'] and after 'receiving' the President's jewel presented two Paul Harris Fellowships.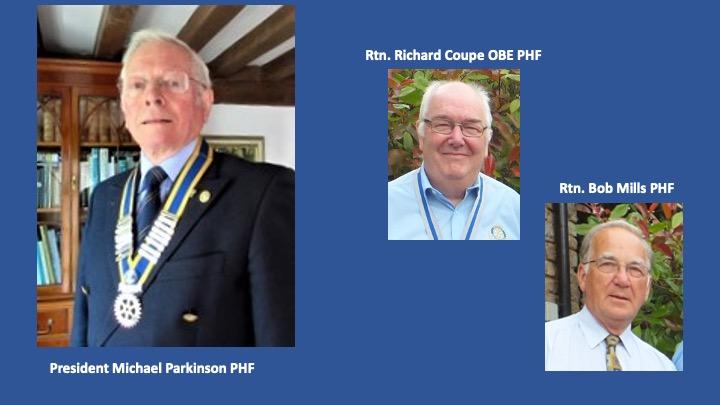 Due to the coronavirus and restrictions on meetings, the Club's Annual Assembly and Handover took the form of a Zoom meeting with twenty-eight members logged on. Unfortunately, the retiring President David Pugsley, could not join the meeting but had forwarded a written report. In it he was pleased to announce that despite the lock-down in March all aims for his year had been met successfully and over £10,000 has been distributed to a large number of local and national charities including the Dorset & Somerset Air Ambulance, Freewheelers Emergency Voluntary Service and Cancer Research UK. David concluded his report by thanking the people of Wellington and surrounding areas for their generosity and continuing support particularly at Christmas time.
Incoming President Mike Parkinson introduced his officers and committee chairs for the Rotary year. Each committee chair outlined what they hoped to achieve in the next twelve months, whether through fund raising, or offering advice and practical help. The President's own chosen charities for the year will be the RNLI, St John Ambulance, the Department of Clinical Research at Musgrove Park Hospital and Rossholme Kenya, a school in the Kiambiu slum area of Nairobi. President Mike confirmed that the Club will continue to support ShelterBox, PolioPlus, give practical help to SeeAbility at Fiennes House in Wellington and develop the Club's allotment for community use. The Club will continue to support other worthy local charities and organisations which are sometimes overlooked. It was appreciated that the Club's activities will be constrained by the coronavirus and the knock-on effects to the economy. Although a programme of on-line meetings is being planned, it would be very much a case "watch this space".
President Mike's first duty as President was to award Paul Harris Fellowships to Rotarians Richard Coupe OBE and Bob Mills in recognition of their extraordinary service to Rotary and the community. The awarding of a Paul Harris Fellowship is the highest personal honour any Rotary Club can bestow. The award is named after Paul P Harris who founded the Rotary movement in 1905. Such is the importance of this award that since being formed in 1954 the Rotary Club of Wellington has presented only forty-one Fellowships including five to non-Rotarians.
President Mike closed the Zoom meeting by wishing all the Club members a safe and enjoyable Rotary year and echoed Immediate Past President David Pugsley's thanks to the people of Wellington and the surrounding districts for their support, without which the Club would not be able to help so many worthwhile causes.