International
Besides being rooted in our own local community, our club supports Rotary International in its quest to promote peace and understanding throughout the world.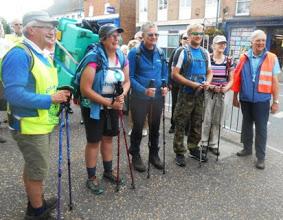 We sponsor International Rotary projects, and provide practical assistance when disasters, whether natural or man made, occur throughout the world.
The picture above shows Charlie Houlder-Moat, who walked from Hunstanton to Watton via the Peddars Way, carrying a Shelterbox on her back for the entire distance. In doing so she raised considerable funds for the Shelterbox charity, which provides disaster relief to families in remote parts of the world who can lose everything when disaster strikes.