Previous Events/ CSR Awards at District Conference
.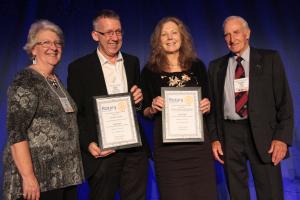 We were delighted when Wendy Martin-Green, Executive Chairperson at Peter Green Furnishings, and Rob Dewing, Director, Notherwood Systems received their Corporate Responsibility Awards at the District 1110 Rotary Conference.
Wendy, a Rotarian of The Rotary Club of Eastleigh, encourages our club to have a stall at the open days in the Chandlers Ford showroom which helps us to maintain our local community profile. It also assists us with the opportunity for fund raising.
Rob Dewing, owner of Northerwood, a company that develops websites for businesses and has worked with Eastleigh club for a number of years. Apart from Rob's talent with computer development, he likes to get his "hands dirty" by regularly helping out at club events such as the Eastleigh 10k, Concorde Classic Car Show and Swan Centre Collections.
Many congratulations to Wendy and Rob