Frome Best Garden Competition - Results
Rotary in Frome Best Garden Competition sections for public adults and children, and for Rotarians in and around Frome which raised over £500 for charities POD and Wessex Counselling.
WINNER Adult Category
Otto & Jenni Townsend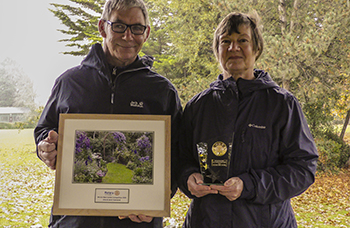 JOINT WINNERS Childrens Category
Holly Barrett & Lydia Morgan

WINNER of ROTARY Only Catergory
Glyn and Christine Carpenter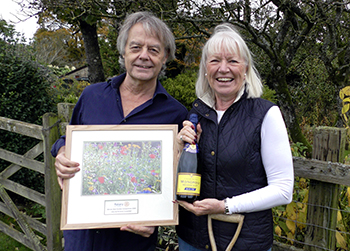 Comments from Winners and Judges
Otto and Jenni Townsend
We live in Beechwood Avenue.
We have been keen gardeners for many years and have been custodians of this garden since we moved here in 2005. Our split level garden has as its centre piece an old, beautiful and very productive apple tree. We have developed the surrounding area with lawns, herbaceous borders, roses, topiary and grasses. Vertical interest is provided by various flowering climbers over arches and pergolas. Part of the upper garden provides an area for growing veg and soft fruit. In the lower garden, surrounded by trees and hedgerow is a small orchard and wildlife area including a natural stream-fed pond that flows underneath a wooden bridge and over a mini waterfall. Further down the stream another bridge leads to a series of steps bordering a fern stumpery.
We are delighted to have been chosen as winners, and to have the opportunity to share our passion and hopefully inspire others. We are grateful to the Rotary club for putting on this competition and thank them for the framed photograph and the lovely shield.





David Millard
As President of Frome Show I was delighted that we were able to provide the prizes for the Children's section. Not only did the competition satisfy perfectly the Charitable Aims and Objects of the Society but also provided us with an opportunity to recognise the help given by Rotarians to our annual show

Holly's quote regarding the garden competition

:

It was really good because it was nice being responsible for my garden, as I had to care for it everyday and it's great getting out into nature. It's like having a pet where you have to look after it everyday. It feels great to come joint first in the garden competition and I'm really pleased my garden came joint first, and I love how I spent all my time in lockdown outside in the garden. My hamster, Brownie, enjoyed eating some of the carrots and broccoli I grew!
Quote from Holly's parents

:

We are so proud of Holly and the effort she put into her garden throughout lockdown. We particularly enjoyed all the vegetables she provided for us!

Jenny Bennett President of Frome Selwood Rotary Club
Congratulations to all the winners! Great to see the three Rotary Clubs in Frome working in harmony on this project. The standard of the photographs shows people want to show off all their wonderful gardens.