The combined Presidents' Charity for 2020-2021 is YMCA Exeter, with whom we have had a close relationship over the past few years. YMCA Exeter creates supportive, inclusive and energising communities where all young people can truly belong, contribute and thrive. Inspired by, and faithful to, Christian values the YMCA provides young people the spaces they need to feel secure, respected, heard and valued, and speak out on issues that affect their lives.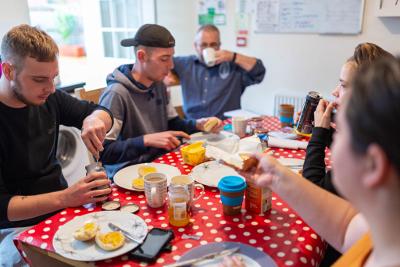 'The Wild Silence' - A conversation with Raynor Winn
In The Salt Path, Raynor and her husband Moth, head to the windswept coastline to try to find a way through homelessness, and ultimately to find themselves. Now in The Wild Silence they come back to four walls, but the sense of home is elusive and returning to normality is not easy.
Hosted by the Rotary Club of Exeter Southernhay on 21st October 2020 and in conversation with Dom Jinks, Exeter Culture Director, this exclusive livestreamed interview with Raynor described their inextricable connection to the land; and how by exploring their past, Raynor comes to terms with their future.