History of Glasgow Grand Central Hotel
Mon, Dec 6th 2021 at 7:00 pm - 9:00 pm
Hybrid Meeting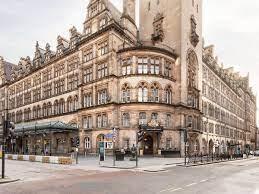 This week our speakers will be Jill Scott and Bill Hicks, both who have backgrounds in journalism, will tell us about the history of the hotel. Built adjoining Central Station, it was once THE place in Glasgow to go to and was where the stars coming to appear in the city's many theatres and music halls chose to stay. Roy Rogers famously walked Trigger up the hotel's wide staircase in 1954 and other well known guests include names like Mae West, Bob Hope, The Beatles and Rod Stewart.

Vote of Thanks - Andy Slater

Our meetings are now taking place in a "Hybrid" format. The first part takes place at the hotel starting at 7pm when we meet for a meal. The second part starts at 8pm and takes place online using Zoom. This is when the speaker will make his or her presentation.

If you would like to join us at the Online part of our meeting then please contact our Secretary Andy Slater (Tel: 01294 275563) who will be able to provide the joining instructions.