Week 22
Who's the young lady with Chris? Or is it a man?
On a more serious note......
.....As we face increased restrictions again and our Christmas celebrations may well be affected, it will be hard to keep our spirits up. But please always think about the consequences of our actions, not just on ourselves, but on those around us when deciding what to do – or what not to do.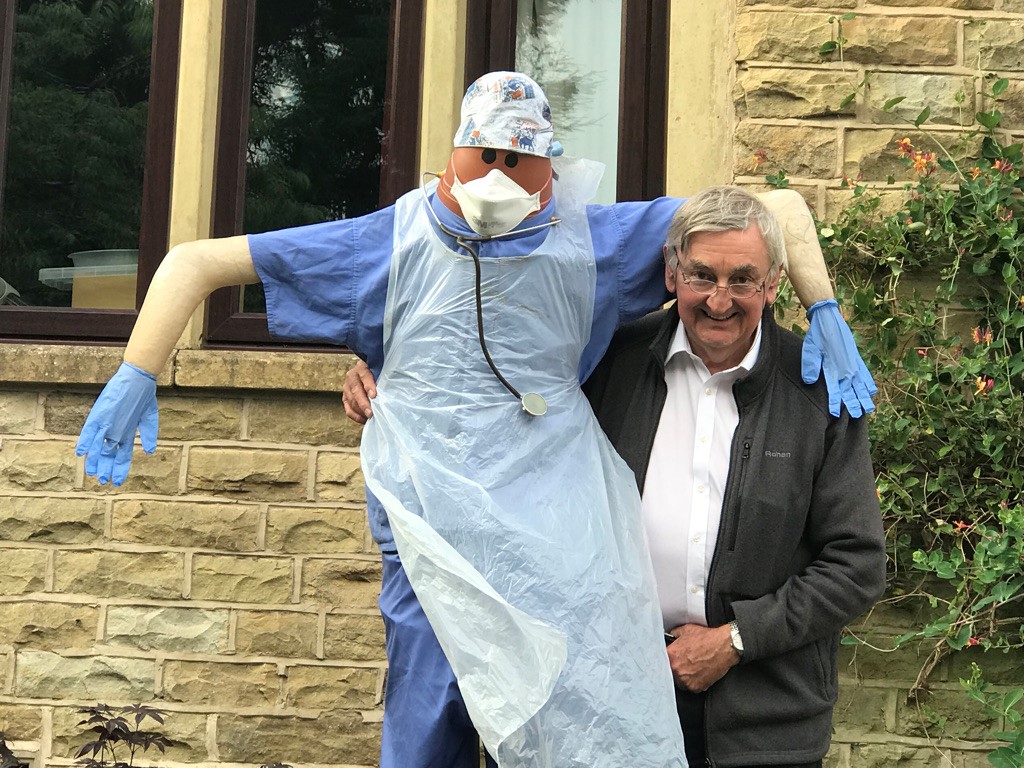 This message from a shared Facebook post says it all:
Until you've done CPR in scrubs, scrub gown, plastic apron, ffp3 mask, visor, hood, and 2 pairs of gloves, you should probably stop moaning about having to wear a mask to the shops!"
----
Week 21
Webmaster's note.No blog this week as AnnE come towards the end of her 100 squats a day challenge.
Still time to sponsor her here
-----
Week 20
This week's message is from our girlie Mascot.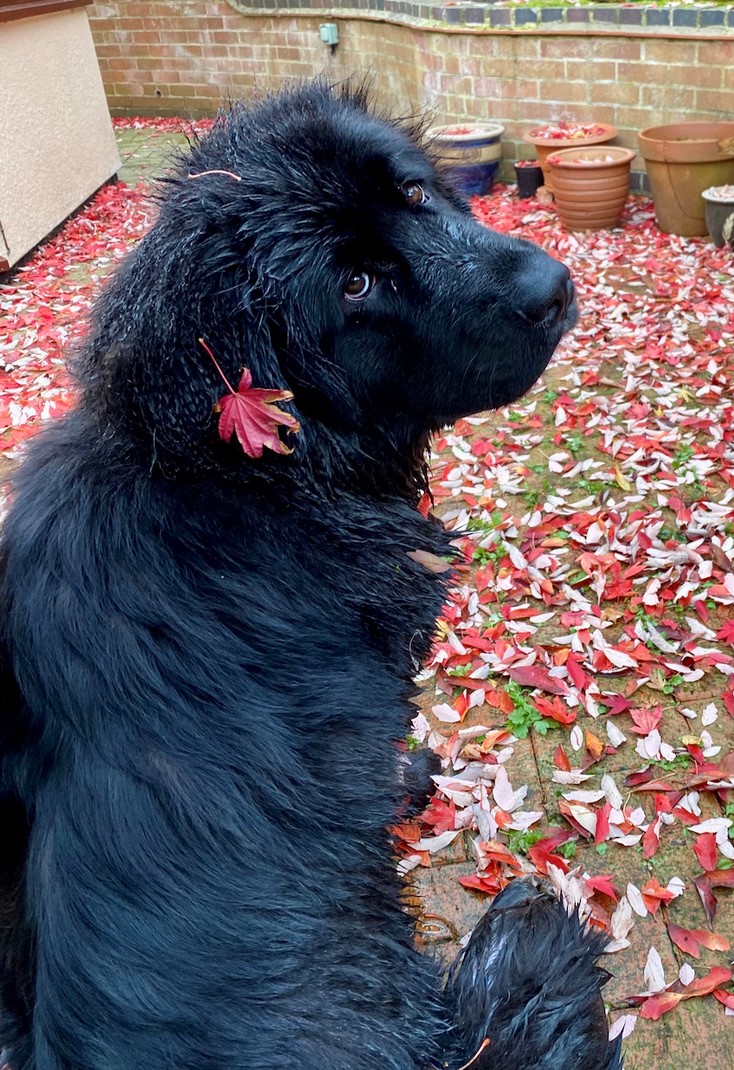 Please be kind to me.
I cant help being too big and clumsy – I really am a girlie girl at heart!
"I wonder if we couldn't extend anti-bullying week to include me and my Newfie friends? To all those lovely tiny doggy fur-babes out there who are a bit afraid and feel they have to snap and snarl at me, I know I am a bit intimidating on the outside, but please take a moment to get to know me.
And maybe ask your mummies and daddies to have the courage to let you off the lead and let me play with you – I would love them forever for that!"
Thought for this week is a quote from Anthony Douglas Williams:
Be kind to every kind, not just mankind"
------
Weeks 18 &19
Week 18.No Blog this week - However.......
Do you ever have a time when your brain just will not process your thoughts?
For whatever reason, that was me last week - hence "No Blog"! ! - (Webmaster's comments: "Anne started her 100 squats per day challenge this week which could account for it. She is raising money for Cancer Research and you can sponsor her here.)"
To make up for it, I'll do two this week. This is the first:------
Week 19. Blog no. 1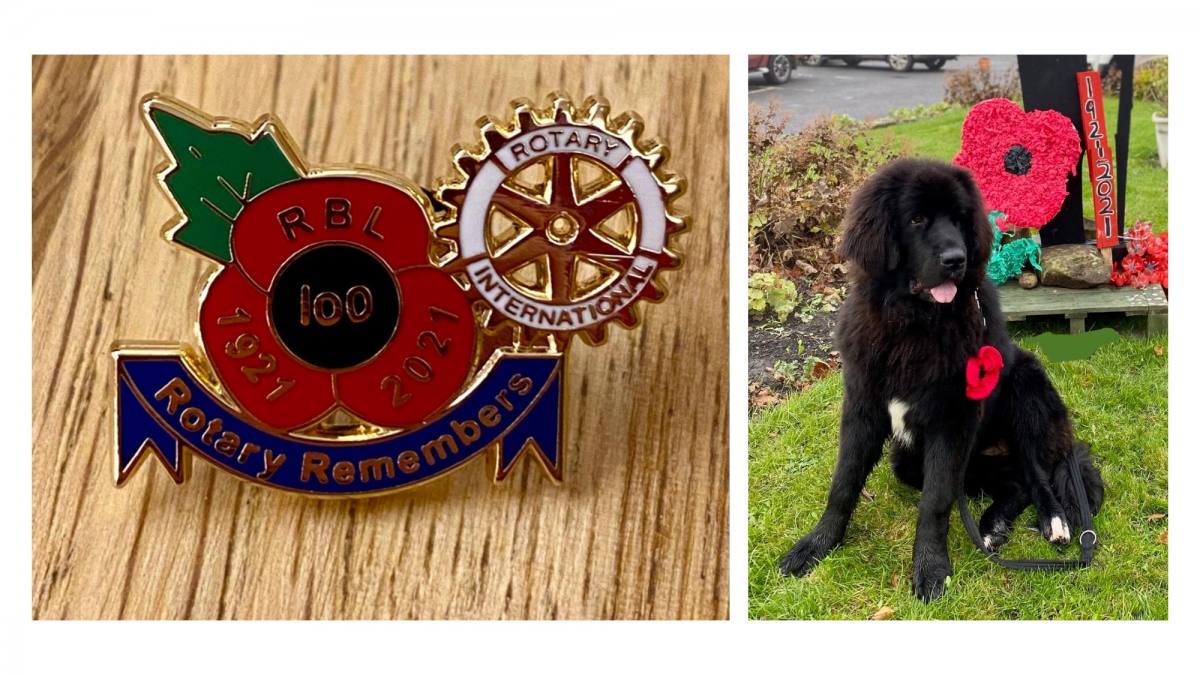 ROTARY MEMBERS REMEMBER
Last week our meeting was on Armistice Day and we started with a poem of remembrance and a minute's silence.
This year is the 100th anniversary of the first British Legion Poppy Appeal. This has been incorporated into our Rotary poppy pin produced by the Rotary Club of Chelmer Bridge whose annual production and sale over the last 5 years has raised an amazing £62,000 for the Royal British Legion and Poppy Scotland.
"Service Above Self"
Our Rotary motto, attributed to Frank Collins in 1911.
------
Week 19. Blog no. 2
Want your voice to be heard?
Then hold it this way.
This was one of the tips given to us after what was the most professional, entertaining and useful talk on communication this week.
We have been holding the microphone in entirely the wrong way!
And another invaluable piece of advice:
Most of us know we should slow our speech down, but whoever remembers to do that?
So our speaker not only told us that we should deliver no more than three words per second, he also demonstrated it to us and we saw for ourselves the huge difference it made.
We'll be practising at our future meetings!
"Tell me and I forget. Teach me and I remember. Involve me and I learn."
Benjamin Franklin