The Civic Mayor of Tameside, Councillor Janet Cooper, attended our awards ceremony at Ashton Golf Club and joined Club President, Ian Cochrane, to present the awards to our 14 local community heroes.
Congratulations to all our award winners:
Volunteers of the Stalybridge Getting Together Project (main picture) - for providing a weekly tea dance to give people over the age of 50 in Stalybridge an opportunity to re-engage after the Covid lockdown.
Carrbrook Hub and Community Garden and Terry Drabble - two awards, one for the volunteers who transformed an overgrown and neglected play area into a first class community asset with a community allotment and workshop for volunteers and to Terry Drabble who masterminded the project (collected by the volunteers on his behalf). Terry also distributes food parcels to local residents each week and has for a number of years distributed presents to local children.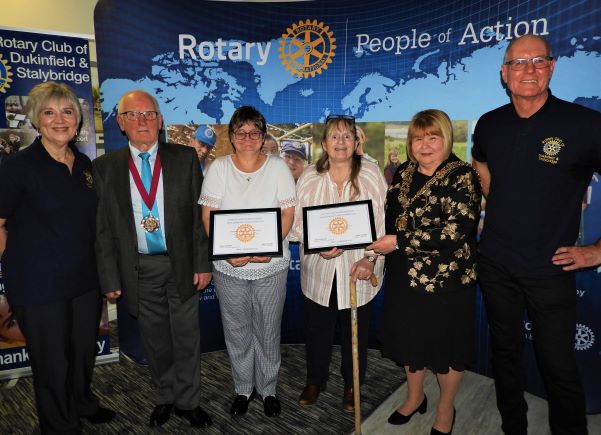 Mossley Litter Bugs - for regularly carrying out community clean ups and litter picks in Mossley to help improve the appearance of their local community.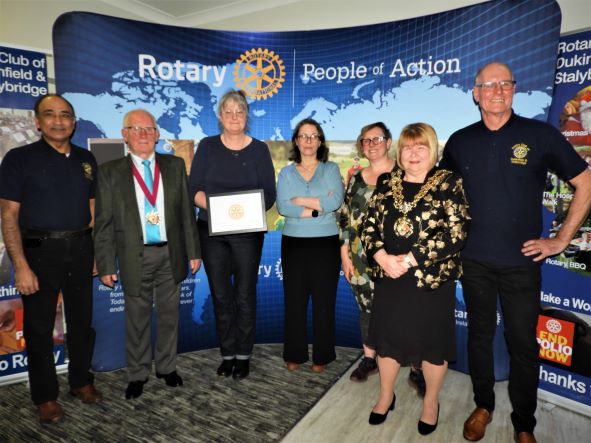 Elizabeth Hesketh, Mottram Rise Homewatch - in recognition of her role as Homewatch Organiser for the Stalyhill and Matley Scheme and her other work in the local community, including regular litter picks on the country lanes around Mottram Rise and the provision of a defribrillator point in the area.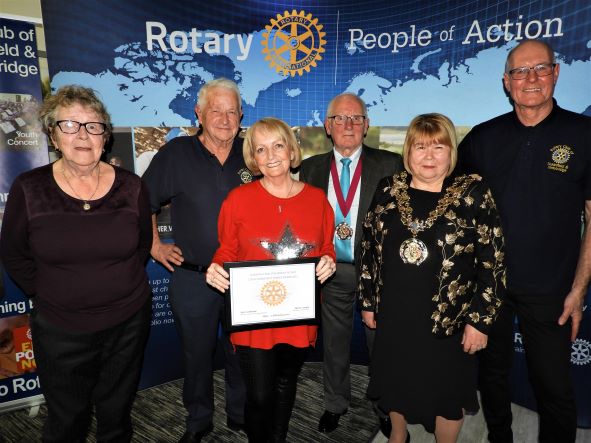 Dukinfield Pantry - for the volunteers who have provided food at a very low cost to the most vulnerable and those who are struggling in the community.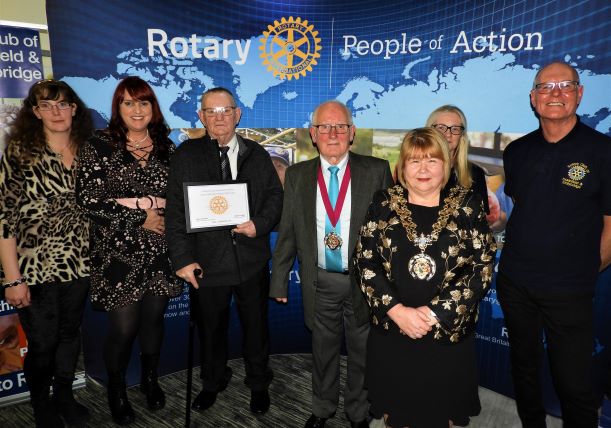 Councillor Jacki Lane - for the work she carries out for the Women's Refuge. As a frequent visitor to the Centre, she buys out of her own pocket resources, material and clothes for the children and women. She also provides a confidential counselling service to those who need it.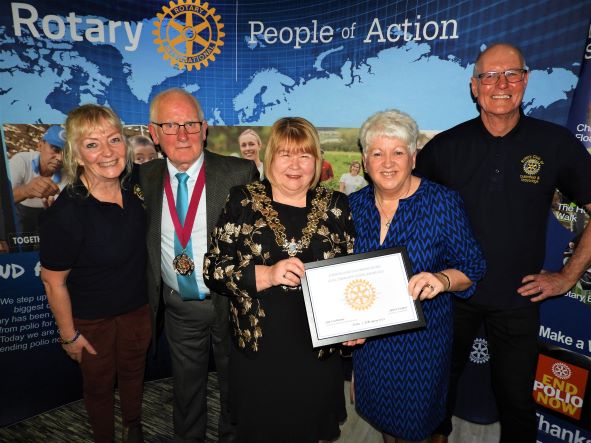 Jean Depledge, Yew Tree Singers - for running the choir for over 50 years, raising money for Christies, the Mayor's Appeal and many more. The choir sings at the local Christmas lights switch on and many other local events.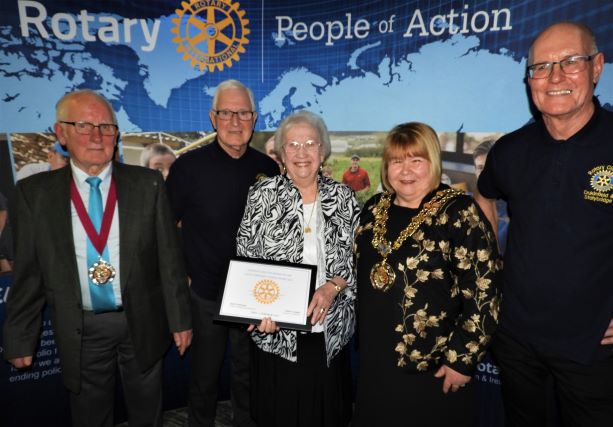 Together Centre, Loxley House, Dukinfield - for being an active and important facility in Dukinfield which works closely with organisations such as the Stroke Association, Noah's A.R.T and SHED.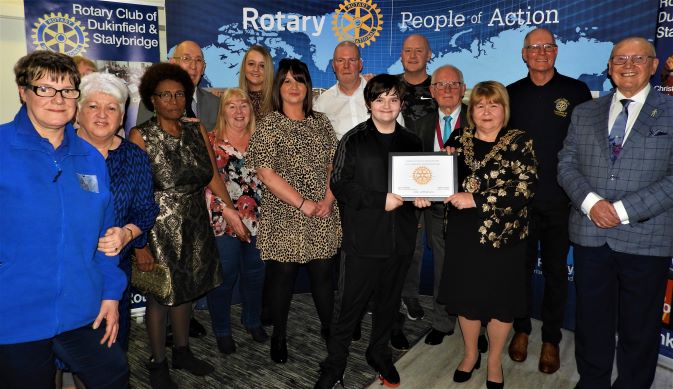 Baptist Church, Ridge Hill - in recognition of the work undertaken by volunteers to help transform the space around the Church, with fencing having been installed and funded by The Big Local. The garden was non existent until volunteers created a haven which can now be utilised by the local community for outdoor activities and children's play.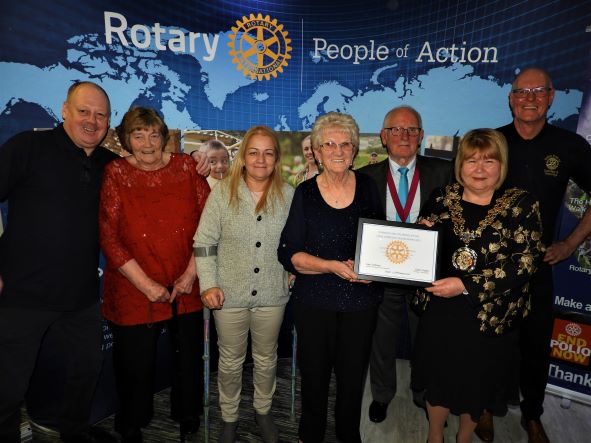 Andrew Stone, Carrbrook - in recognition of his role as a volunteer Community Responder who has worked tirelessly during the pandemic. He also volunteered during the lockdown with Stalybridge Covid Helpline to make deliveries of food and medicine to residents who were isolating. He is also a local Scout leader helping to support young people in his spare time.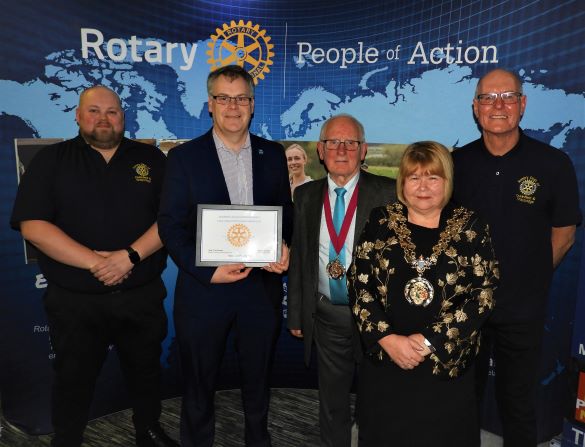 Ethel Clayton - for volunteering at the local Cancer Research shop in Stalybridge for over 30 years. Many people just call in to chat with her as she is a real character with a fantastic personality. She recently received formal recognition for her services by Cancer Research.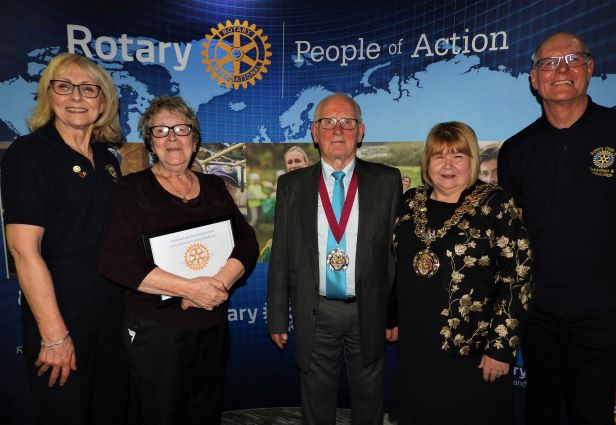 Sue and Stephen Muir, Dukinfield - for their unselfish and tireless work in supporting the homeless, single parents and many others in the neighbourhood, working closely with the local Homeless Champion (Pauline Towns from The Station Pub in Ashton).
Margaret Doherty, The Big Local - for going way above the call of duty for the residents of Ridge Hill, Ambleside, Springs and Hague estates in Stalybridge. She administers the Big Local and mediates with local schools, churches and groups on the estates to ensure the needs of families and individuals are being met in a confidential and sensitive manner.