BOTHY BALLADS CHAMPION of CHAMPIONS CONCERT
SAT 11th FEBRUARY 2023
After a two year pandemic break, Rotary Elgin were delighted to host the 40th "Champion of Champions" Bothy Ballads Competition which featured the six balladeer winners from the North East area heats. Those participating were Joe Aitken (defending champion); Shona Donaldson; Allan Taylor; Geordie Murison; Paddy Buchanan; and Hector Riddell.
Complementing the balladeers were Bryan Gear on fiddle and Martin Henderson on keyboard, two renowned musicians from Shetland, and they really had the audience tapping their feet with their excellent range of music from as far afield as Canada and Denmark, and of course their home isle.
The evening was ably compered by Gary Coull who created much laughter during the evening with some light hearted fun and jokes, whilst Arthur Watson and Danny Coupar, both well known in Bothy circles, had the unenviable task of judging the competition. Being the final of finals, the judges both recognised the challenge they had on their hands, but after careful deliberation, it was Shona Donaldson from Tarland who was crowned the 2023 Bothy Ballads Champion with Allan Taylor and Hector Riddle taking second and third places.
Events such as the Bothy Ballads cannot happen without fantastic community support and sponsorship, and Rotary Elgin, through strong links that were established by their late member James Macpherson who sadly passed away recently, is forever grateful for the unwavering support they have had from The Macallan over the past 40 years. President Martin Birse praised The Macallan and by way of appreciation, he presented Esther Green from The Macallan with a suitably framed Certificate which depicts the music of the song "The Macallan" as background with a photo of Jo Aitken superimposed as most times winner of Champion of Champions, while on the reverse includes a copy of the programme from the first ever Bothy Ballads in 1983.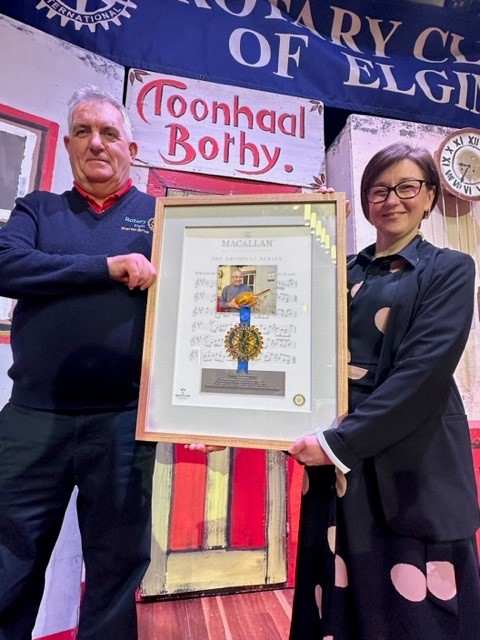 Through generous donations from the audience, a bucket collection at the end of the evening for the victims of the Turkey/Syria earthquakes raised an amazing £1,800.
Date for the diaries – 2024 event will be held on 10th February 2024.