Adrian and Graham receiving the Paul Harris Fellow Award from outgoing President John Palmer
Adrian Miller was a founding member of the Chelwood Bridge Rotary Club and served as President and also Club Secretary. In addition he has been a very active member and supporter of various community projects over the years and deserves formal recognition with the Paul Harris Fellowship.
Graham Robinson has been a member of Chelwood Bridge Rotary Club for many years and very supportive of all activities. In addition, he has been the Treasurer for the affiliated Water Survival Box charity for around 15 years which is a great achievement. For these reasons Graham is fully deserving of the Paul Harris Fellowship.
Martin Palmer becomes our President for 2022 - 2023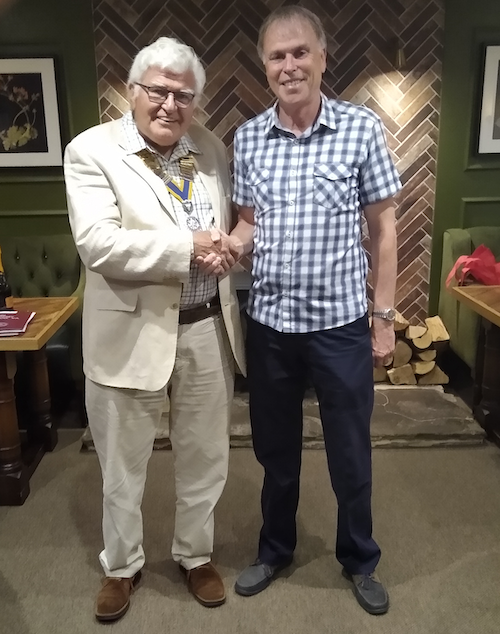 As the new Rotary Year begins, the Presidential baton was passed on from our outgoing President John Palmer to Martin Palmer, no relative, who is seen here wearing his new badge of office. Chelwood Rotary Club meet fortnightly in the Carpenters Arms, Stanton Wick. There is great fun and fellowship to be had in Rotary. Why not come and join us? You can get more information from our website chelwoodbridgerotary.com