The District Public Image committee works closely with RI Public Image Co-ordinators and the Rotary GB&I Public Image committe to provide resources, guidance and support to clubs in our District and to co-ordinate the implementation of RI and Rotary GB&I strategies.
During this Rotary year the Public Image committe along with Membership will be working together closely and developing joint programmes and events for clubs in our district.


USEFUL LINKS
District 1020 Website here District 1020 Facebook here District 1020 Twitter here
District 1020 Youtube here District 1020 LinkedIn here District 1020 Pinterest here
Social Media Guidance on Facebook here
Social Media Guidance Rotarian Paul Wilson here
Rotary GB&I latest news here RI latest news here
Rotary promotional items, Pull-ups, Banners, Flags and Large Promotional Product etc
Available to purchase via the RotaryGBI Shop / online catalogue or direct from Rotary's preferred supplier "RotaStore" are a range of Rotary promotional items to help District and Clubs raise awareness of Rotary and promote the Rotary name, brand and image.
If your looking for items to promote Rotary at an upcoming Event?
Want to stand out from the crowd?
Look no further than "RotaStore", Rotary's preferred supplier and independent non-profit making web store run by Rotarians for Rotarians who are here to help. There is a huge variety of items available in every price range from customizable Pull-ups, Banners, Pop-up Kiosks, Mark of Excellence, Gazebos, Trailers and much more, all designed to make a lasting impact at any event.
Please click here to view all items available for purchase (the store will open in a new window) .
Rotary Area Gazebos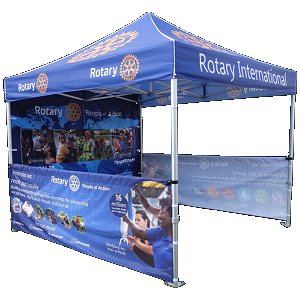 Each area now has its own Rotary Gazebo, to really stand out at events. For a professional impact this quality Portable Pop Up Gazebo is convenient for any shows, exhibitions and promotion purposes.
Information and specification for Gazebo
Easily erected by one or more persons and when collapsed down fits in a storage bag for easy transport.
Made out of lightweight durable materials and assembles in minutes without tools, this gazebo is supplied complete with Full Size back wall and three Half size side walls complete with a full graphics package
The Full Size Backwall is double-sided and fastened to the top of the frame leg via velcro and then secured down each leg of the frame by velcro straps. This Backwall can be assembled onto any side of the canopy.
The Half size side walls require 1 rail per side (top.) These are single-sided and are fastened at the top with a horizontal pole which travels the width of the sidewall (inside pole pockets) and attach to the legs of the canopy frame. Sidewalls can be assembled onto any side of the canopy
Download the illustrated assembly instruction sheet

Supplied with our Wheeled Canopy Bag allowing easier transport where longer distance is required by foot
Wind Speed Rating:20-28 mph
Canopy Material: Water Resistant | Vivid Blue Colour | High quality gloss finish | UV Fabric
Size: This canopy is a standard 3m x 3m (10ft. x 10 ft) size
Height Setting: Five different heights ranging from 3.2m (10.5ft) to 3.4m (11.25ft) tall.
Frame: 50mm Hexagonal Telescopic legs which snap into place.
Gazebo Size: 3m(W) x 3m(D) Full size Wall 3m(L) x 2.2m(H) Half size side panels 3m(L) x 1m(H)

Option to enhance the Area PR Gazebo package:
Basically, we can create a PR package tailored to be used by clubs within each Area for both indoor and outdoor events, with the option to split the cost amongst those that wish to contribute to such a resource. Should clubs wish to discuss further please go through your Assistant Governor I will be only too happy to assist with a quotation.

Two Rotary Sail Flags – People of Action - £150.00 ish depends on £ to $ rate
Two Rotary pull up Banners – People of Action Theme - £90.00
Purchasing heavy weights for using the gazebo on a hard standing. The Gazebo already comes with pegs and ratchets for securing on grass