CANCELLED Rescheduled Music Evening CANCELLED
Male Voice Choir, Alex Courtney & Corsham Band - 28 November 2020 has now been Cancelled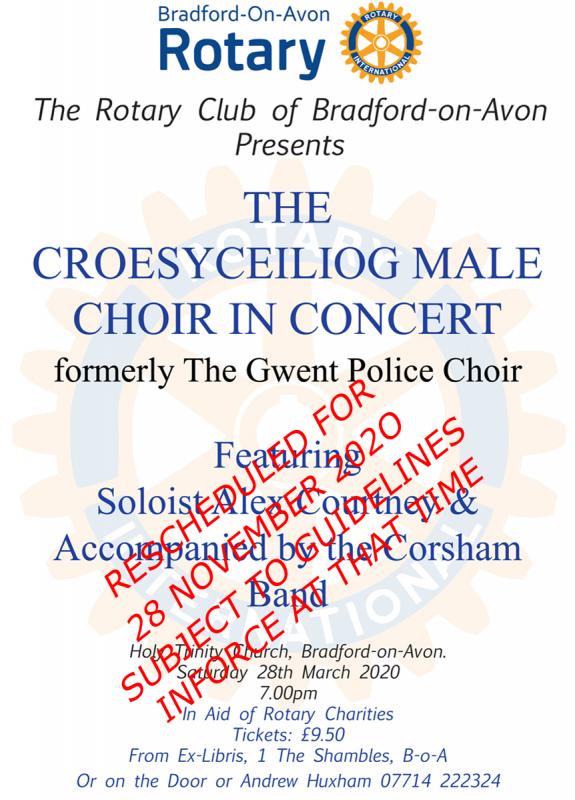 In view of various recommendations regarding Corona Virus and the organisers own concerns, the Choir and Band Concert is now CANCELLED
On 28 March 2020 at 7pm in Holy Trinity Church, The Rotary Club of Bradford on Avon will present a Musical Evening featuring the Croesyceiliog Male Choir, young vocalist Alex Courtney and The Corsham Band. Tickets are £9.50 and are available from Ex-Libris Bookshop in the town or at the door on the night
Formally known as the Gwent Police Male Choir, the choristers and music team of Côr Meibion Croesyceiliog / Croesyceiliog Male Choir (CMC) have performed as a group for over 50 years. The Choir has performed at concerts throughout the UK and Europe, and is supported and enhanced by a very talented music team. CMC is a registered charity, and raise funds, through their concerts, for major national charities and locally based local 'good causes' and they have supported the Rotary Club of Bradford on Avon for many years.
Making a welcome return with the Choir is the young Soprano / vocalist Alex Courtney. A pupil at Croesylceiliog School, Alex is currently coming to the end of her A levels and is eagerly waiting to go to the Royal Welsh Collage of Music and Drama to further her musical interests. Over the last two years Alex has been a member of the National Youth Choir of Wales and has also performed alongside Bryn Terfel. As a soloist Alex provides a musical contrast to the Choir's repertoire and following her debut performance last year, her return is eagerly anticipated.
The Corsham Band is a traditional Brass Band based in Corsham. The band consists solely of brass instruments ranging from the high-pitched Soprano Cornet to the low pitched BBb Bass. Formed over 140 years ago they play at local fetes, concerts, and many other private and public functions. They are a highly regarded contesting band and are in the National Second Section for contesting purposes.
Rotary Club of BOA raises funds to support international, national and local causes including eradicating Polio world wide, providing Water Survival Boxes for disaster relief and supporting Youth organisations and individuals in Bradford on Avon and the wider Wiltshire area.
Contact Andrew Huxham about this page: