<
QUEENS JUBILEE - SOCIAL CAR RUN
<< A BODMIN ROTARY CLUB EVENT >>
BODMIN to PENZANCE Sunday 5th June 2022
70 BRITISH CARS >>> 70 Miles
If you have a British Car - Registration year 1952-2022 and would like to take part please see below:

Latest Update - 12th May 2022....

Arrangements are progressing really well, with only 2 more Registration Years to find....
Please contact Peter Old Tel: 01208 832333 - if you own year 1984, 1997 and would like to take part....

Many Classic cars are in the line up - don't miss taking part in this special event if you have one of the Registrations needed. There are many famous and classic names already entered - to name a few recent additions - Bentley, MG, Reliant Robin....

<
THE START will be from Priory Park, Bodmin - Sunday 5th June - Assembly and viewing from 9.00am, depart at 11.00am....

The 70 mile route is still being finalized and will be published shortly. ( Initial route will be Start from Priory Park > Turf St > Dennison Rd. > Higher Bore St. > Westheath Ave. > Lanivet >>>>>>>>Penzance?

A welcome reception will be held at Penzance upon arrival of the cars, agreed with Penzance Town Council and hosted by Penzance Rotary Club and hopefully Media coverage will be present.
<
The entry fee is £5.00 and every participant can have a bacon butty at the strat for an extra £5.00.
A Monte Carlo style plaque (see picture above) for attaching to front of car will also be given at the start.
Also, each participant will receive a commemorative mug at the finish.
<
Only British Cars: - Year Reg. between 1952 - 2022 can take part.

FOR MORE DETAILS CONTACT: Peter Old 01208 832333 / 831935 or email: abbie.scawn@mcbinsurance.co.uk with your contact details....

<<<<>>>>
Also see National EVENTS website - please select here for events search map....
< Initial Press Release >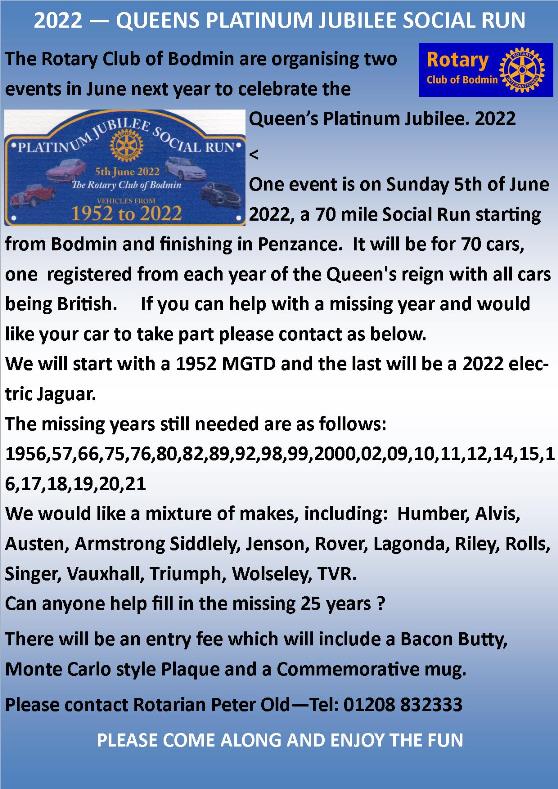 <

Printable poster - Select....