Future meetings and events around the district
Saltram Plympton - Sun 3rd June 2018 at 11.00 - 17.00 Classic Car Show

Classic Car Show on June 3rd at the Lyneham Estate, Yealmpton. Spectators £2 per adult, free entry for Classic car exhibitors. Contact David Imm by telephone (01752 863072) or by email (see below). Proceeds to Devon Air Ambulance
Saltram Plympton - Thu 14th June 2018 at 08.00 - 18.00 Golf Day at Stover GC

Golf Day at Stover GC on June 14, raising funds for "Hugs for Henry and "Friends and Families of Special Children" Entry £105 per team of 3. Download the entry form pdf.
Kingsbridge Estuary - Sun 22nd July 2018 at 10.00 - 16.00 Rotaproj 2018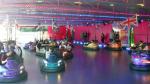 The annual fun day for people with special needs from across Devon and Cornwall which will be celebrating its 30th anniversary this year.
Saltram Plympton - Sun 16th December 2018 at 10.00 - 15.00 Plymouth Santa Fun Run 2018 (date TBC)

The 2018 edition of the famous Plymouth Santa Fun Run
Saltram Plympton - Fri 3rd May 2019 at 19.00 - 23.00 Dinner/Dance in aid of "End Polio Now"
Dinner/Dance at the Duke of Cornwall Hotel