Future meetings and events around the district
Wickford - Sat 30th June 2018 at 18.00 - 22.30 Jazz on a Summer Evening - Buy Tickets here!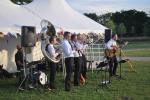 Come along and enjoy great music in the lovely environment of the RHS Hyde Hall gardens. Stroll through the gardens and listen to the music!
Billericay Mayflower - Sun 8th July 2018 at 11.00 - Billericay Summerfest Sunday 8th July 2018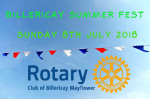 Billericay town's popular summer event organised by Billericay Mayflower Rotary Club for the community