Future meetings and events around the district
Skipton - Sat 2nd November 2019 at 19.00 - 22.00 City of Bradford Brass Band concert - 2nd November 2019
Concert by this ever popular local Brass Band. Venue Holy Trinity Church Doors open 7.00pm, start 7.30pm, All tickets £12 p.p.
Skipton - Fri 8th May 2020 at 19.30 - 20.30 Steeton Mail Voice Choir in concert
Concert at Holy Trinity Church, Skipton
Skipton - Thu 19th November 2020 at 19.00 - 22.00 Black Dyke Band concert November 2020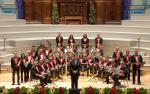 Black Dyke Band will be performing a selection of their works at Skipton Town Hall. Doors open 7.00pm & concert commences 7.30pm.