Future meetings and events around the district
Skipton - Fri 15th March 2019 at 19.00 - 22.30 Cinema Night at Gargrave.
"Breathe" is a 2017 biographical drama film. It stars Andrew Garfield, Claire Foy, Hugh Bonneville, Tom Hollander, Ed Speleers and Dean-Charles Chapman, and tells the story of Robin Cavendish, who became paralysed from the neck down by polio at age 28.
Skipton - Sun 19th May 2019 at 09.00 - 16.30 Dragon Boat Challenge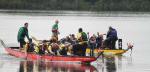 Dragon Boat Challenge at Coniston in aid of Alzheimer's Society or a charity of your choice. Sunday 19 May 2019. Download forms below