Future meetings and events around the district
Alsager - Sat 21st September 2019 at 18.00 - 22.00 CHARITY CONCERTS AT ST. MARY'S CHURCH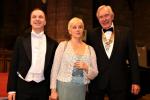 THE CLUB PRESENTS AN ANNUAL CHARITY CONCERT FOR SELECTED LOCAL OR INTERNATIONAL CHARITIES AT ST. MARY'S CHURCH.
Macclesfield Castle - Thu 24th October 2019 at 19.00 - 22.00 World Polio Dinner

Buffet dinner in aid of Polio Eradication
Alsager - Fri 15th November 2019 at 19.30 - 22.00 Ian's Greatest HITS - Photos and stories from around the world

Ian Macpherson has been exploring the world's wild places for very many years. His presentation will include stunning photos and anecdotes from his life's travels. This is a night not to be missed by all those who have enjoyed his previous presentations.
Alsager - Sat 21st December 2019 at 18.00 - Sun 29th December 2019 - 22.00 Singing Santas

Each year our group of singing Santas tour local pubs and restaurants raising money for local Charities
Alsager - Sat 22nd February 2020 at 16.00 - Sun 23rd February 2020 - 21.00 Senior Citizens Party - Civic Centre - February every year

Annual event with all of the Alsager Clubs and associations providing a meal/drinks and an excellent variety show hosted by John Grint for the past 40 years