Future meetings and events around the district
Alsager - Sat 7th September 2019 at 09.00 - 12.00 Alsager Rotary Community Market

Rotary provides covered stalls at a cost of only £10. The stalls are open to charitable organisations and this year for the first time, to the general public -- much like a table-top sale.
see link - https://www.rotary-ribi.org/clubs/page.php?Pg1D=769951
Alsager - Sat 21st September 2019 at 18.00 - 22.00 CHARITY CONCERTS AT ST. MARY'S CHURCH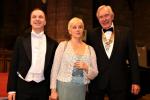 THE CLUB PRESENTS AN ANNUAL CHARITY CONCERT FOR SELECTED LOCAL OR INTERNATIONAL CHARITIES AT ST. MARY'S CHURCH.
Alsager - Sat 21st December 2019 at 18.00 - Sun 29th December 2019 - 22.00 Singing Santas

Each year our group of singing Santas tour local pubs and restaurants raising money for local Charities
Alsager - Sat 22nd February 2020 at 16.00 - Sun 23rd February 2020 - 21.00 Senior Citizens Party - Civic Centre - February every year

Annual event with all of the Alsager Clubs and associations providing a meal/drinks and an excellent variety show hosted by John Grint for the past 40 years