Future meetings and events around the district
Mon 21st August 2017 at 15.00 - 17.00 August Silver Monday Afternoon Tea
No cinema- we are having a tea party - St Peters Church Hall Wisbech, PE13 1HP,Booking essential .Reservations now being taken.Tickets are £5 per head.Maximum 100 tickets available.
Mon 6th November 2017 at 18.00 - 21.00 Fenland 4 Bowls Night

A bowling evening where the four Fenland Rotary Clubs compete for the title .An evening of fellowship and fun.Guests are welcome and a small raffle for The Rotary Foundation will be held.
This is a pre booked event at Guyhirn .
Sat 27th January 2018 at 19.30 - 23.00 Race Night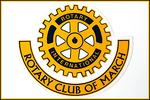 Meal Included.
Try your Luck on the horses!