Future meetings and events around the district
Severn Vale - Sun 4th March 2018 at 08.30 - 11.00 Severn Bore Breakfast
Severn Bore Breakfast. The Best of the Year?
Sun 4th March 8.30am onwards
Bacon Rolls, Tea/Coffee
Severn Vale - Sat 21st April 2018 at 19.00 - 22.30 Charity Dinner in aid of SARA

A charity dinner, unique auction, Guest Speakers and chance to meet & talk with the SARA rescue crew on your table
Gloucester Severn - Sun 13th May 2018 at 09.00 - 18.00 Annual Dragon Boat Regatta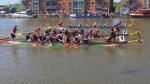 The Annual Dragon Boat Regatta returns to Gloucester Docks!