Future meetings and events around the district
Royal Wootton Bassett & District - Sun 15th April 2018 at 10.00 - 16.00 Metal Detecting Rally
This event was postponed from 18th March due to snow. It will now take place on Sunday 15th April. Previous bookings will be accepted and new ones also welcome.
Royal Wootton Bassett Town - Sat 5th May 2018 at 14.00 - 17.00 Annual RWB Senior Citizen's Tea Party on 5 May

RWBTRC entertains around 100 Senior Citizens with support from the Town Council and Age Concern.
Swindon North - Fri 11th May 2018 at 13.00 - 19.30 Charity Golf Day 2018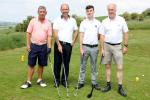 The 25th anniversary Charity Golf Day at Ogbourne Downs Golf Course
Swindon Phoenix - Sat 12th May 2018 at 12.00 - Fri 25th May 2018 - 16.00 Barge Week aboard Rebecca on the Kennet and Avon Canal
Day trips provided free of charge by Swindon Phoenix RC, for disabled and dis-advantaged Adults and Children
Swindon - Sat 12th May 2018 at 19.00 - Sun 13th May 2018 - 01.00 2018 Charity Ball

This is our 2018 Charity Ball to be held at the Swindon Marriott Hotel The theme is Bollywood Nights – This will be a highly colourful and musically exciting theme
Royal Wootton Bassett & District - Thu 17th May 2018 at 12.00 - 18.00 Visit by RIBI President

The top man for Rotary in the UK will visit us on 17th May, to see some of our community projects.
Royal Wootton Bassett Town - Sun 15th July 2018 at 09.00 - 18.00 Annual Charity Golf Day - 15 July
Our annual Charity Golf Day to raise funds for the Brighter Futures Radiotherapy Unit Appeal. You can copy and print the entry form from this page