Completed meetings and events 2019-2020
Thu 22nd August 2019 - No Meeting
See 23rd August
Thu 15th August 2019 - Partners Meeting
Venue:ivy Hill Hotel
Speaker: Bob Harding Jones, who is going to give us light hearted stories of village and rural life with a wry look at modern living
Thu 8th August 2019 - Social Meeting
Venue: The Plough
"Call My Bluff" ...a bit of Fun!
Sat 3rd August 2019 Toot Hill Country Show
Volunteers required to run the Bar.
Please contact Christine if you can spend time helping KH&V
Thu 1st August 2019 - Business Meeting
at Ivy Hill Hotel
Tue 30th July 2019 - Council:
Venue:NM
Sun 28th July 2019 - Rotary Family BBQ
at Alan & Sally's
Picnic & games for all
Thu 25th July 2019 - No Meeting
Sat 20th July 2019 - IFHS Summer Show at Seymour Field
Club members will be running the Bar
Thu 18th July 2019 - Partner's Evening
at Ivy Hill Hotel
Speaker: Terry Lockhart, a professional film extra, will tell us about his on-set experiences
Sun 14th July 2019 - Hylands Park Clear-Up
after "Dixie Fields Concert"
read more...
Thu 11th July 2019 Social Meeting
Venue: The Plough
unless otherwise posted
Sat 6th July 2019 - Summer Evening Jazz Concert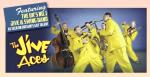 23rd Year of Open Air Concert at Ingatestone Hall.
A wonderful evening of Jive, Swing, Rock 'n' Roll and New Orleans Jazz
read more...
Thu 4th July 2019 Business Meeting
at Ivy Hill Hotel
Tue 2nd July 2019 - Council:
Venue:NM
future
calendar
district events
local events