Completed meetings and events 2017-2018
Wed 13th December 2017 Richard's birthday get together!
19.00 for 19.30, Leonardo Wine Bar, 459, Upper Richmond Road West, East Sheen, SW14 7PS. £17.50 pp to the venue on the night.
Wed 6th December 2017 How to use a defibrillator!
Mike Aker will tell us how to use a defibrillator to save a life!
Fri 1st December 2017 Kew Sparkle

On 1st. December outside Hallett's Estate Agents, 6 Royal Parade, Kew at the Kew Traders Sparkle evening, where we were selling roast chestnuts from 5-8 p.m.
And the Rotary Santa was at Featherstone Leigh Estate Agents nearby.'
Wed 29th November 2017 The Mayor of Richmond upon Thames is our guest this evening.

'Mayor of LB Richmond Cllr. Lisa Blakemore will give a 'job' talk to members and guests, with questions afterwards.'
Wed 22nd November 2017 Club SGM & Business meeting
---
Wed 15th November 2017 Travels around Jordan.
George Goddard will give an illustrated talk aboul his time in Jordan.
Wed 8th November 2017 Open evening
---
Wed 1st November 2017 Community / Vocational Services evening
---
Wed 25th October 2017 Open evening
---
Wed 18th October 2017 Club Charter Anniversary Evening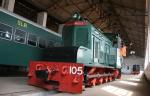 Our speaker this evening was Helen Ashby OBE BA FMA.
read more...
Wed 11th October 2017 Committees evening
---
Wed 4th October 2017 'Crossrail: Delivering and Operating the £15bn Railway'

Our speaker this evening was Howard Smith, Operations Director of Crossrail for Transport for London.
read more...
Wed 27th September 2017 Internationally themed evening with Walter and Margaret.

Light entertainment and snacks in support of the OTAKAR KRAUS MUSIC TRUST.
read more...
Wed 20th September 2017 Club Business meeting
---
Wed 13th September 2017 Writer David Grant was our speaker this evening

Alexander of Macedon - Was he Great at all?
read more...
Wed 6th September 2017 Open evening
---
Wed 30th August 2017 Committees evening
---
Sat 26th August 2017 Kew Horticultural Show
We all hope for good weather on the day, and for another happy community event.
Wed 23rd August 2017 Our two Global Scholars, Tommy and Andrew, will be joining us this evening.
Tommy Daniel and Andrew Player will be with us for the last time before they both return home!
read more...
Wed 16th August 2017 Club Business meeting
---
Wed 9th August 2017 NO MEETING at the Coach & Horses. We are going to the Races!
We plan to visit Kempton Race Course this evening. Please check out www.kempton.co.uk. The first race is at 18.10 and the last at 21.10 but arrive when you can. Guests are welcome. The more the merrier!!
Sun 6th August 2017 Kew Village Market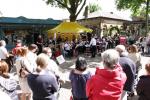 We are very happy to spread the word about this delightful Village Market. We also thank the organisers for supporting our efforts to distribute Usborne Dictionaries to year 5 pupils at 7 Primary Schools in Kew.
See you at the Market on 6th August !!
read more...
Wed 2nd August 2017 Jessica Davis, the new General Manager will introduce herself this evening.
General Manager at the Coach & Horses, Jessica Davis, has agreed to give us 5-10 minutes talk about herself, her career, and aspirations for the Coach & Horses.
Wed 26th July 2017 No meeting
---
Mon 24th July 2017 DG's visit. Joint meeting with R.C.Hounslow.
Joint meeeting to be held with Hounslow at HCC, Gresham Road, Houslow, TW3 4BX.
Wed 19th July 2017 Committees evening
---
Wed 12th July 2017 Membership Services evening
Before the meeting this evening we will visit Richard's allotment. There we will have a demonstration and talk about bees from allotmentholder Jenny Sneesby.
Wed 5th July 2017 Induction of President & Officers
Gordon Ashbury will give a talk entitled 'Outward Bound Kilimanjaro' The Outward Bound Trust is an educational charity that uses the outdoors to help develop young people from all walks of life. He joined them for a few weeks in 1964.
Sat 1st July 2017 President Richard's B B Q.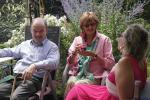 Saturday afternoon Barbeque at Richard W's house.
future
calendar
district events
local events