Completed meetings and events 2019-2020
Tue 8th October 2019 - 100 Sqaure Draw

Carolyn McLaughlin won this evening's draw.
Tue 8th October 2019 Business Meeting
Mon 7th October 2019 - Rotary Special Needs Football Festival
Now in its 23rd year, the Club will host on behalf of Rotary District 1060 at Aston Villa Academy, attracting schools from across the Midlands' counties.
Fri 4th October 2019 - Unveiling of memory tree at Wilson Stuart School

The Club has contributed towards this stunning tree that celebrates the lives of students and staff - a very fitting memorial to those it commemorates. https://www.wilsonstuart.co.uk/
Tue 1st October 2019 Club Night

Sun 29th September 2019 - Late summer fundraiser

At Sutton Coldfield Town Football Club where we had an excellent carvery meal and dessert. Back by popular demand were 'Dandy', the Black Country duo. The event raised £800 for SIFA Fireside. www.sifafireside.co.uk
Tue 24th September 2019 Andrew Hopkins; Stereo photography
We were treated to an excellent presentation by Rtn Andrew Hopkins. He even provided each of us with specs to see the images on screen!
Tue 17th September 2019 - 100 Square Draw

This evening's lucky winner was Claire Wilkinson.
Tue 17th September 2019 Cllr David Allan, Mayor of Royal Sutton Coldfield and Mayoress Linda Allan

We were delighted to welcome the Mayor and Mayoress, Cllr David Allan and Mrs Linda Allan to our meeting. The Mayor spoke about what the Council is currently seeking to achieve, outlined longer term plans and took questions.
Sat 14th September 2019 - Last Night of the Rotary Proms

Another great evening of classical favourites, featuring City of Birmingham Symphony Orchestra and The Treorchy Male Choir.
Tue 10th September 2019 Iain Wilson; ShelterBox

Iain Wilson, District 1060 ShelterBox Co-ordinator, gave an informative update about the charity's work. The Club donated £590 to fund a ShelterBox, following the devastation caused by Hurricane Dorian. www.shelterbox.org
Tue 3rd September 2019 Business Meeting
Tue 20th August 2019 - 100 Square Draw
This evening's draw was won by Robert Plumridge.
Tue 20th August 2019 Robert Young; Games Night

Tue 13th August 2019 Treasure Hunt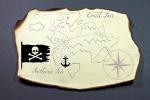 Always a fun evening, this year's event will be around Boldmere.
Tue 6th August 2019 - Donation to Extra Mile School, Sierra Leone.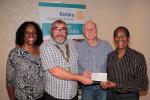 Funds raised at the Spring Ball organised in May by Rotarians Donald and Pam Nelson have now been distributed and include £1200 that was presented to Mike Fielding representing the school. It will go towards vital building work within the premises.
Tue 6th August 2019 Business Meeting
Tue 30th July 2019 Robert Young; The Royal British Legion

The Legion is here to help members of the Royal Navy, British Army, Royal Air Force, veterans and their families.
https://www.britishlegion.org.uk/
Sat 27th July 2019 Greenacres Summer Fete

We are pleased to continue the Club's support of the staff and residents at Greenacres, the local Leonard Cheshire Residential Home. Here are some of our Inner Wheel colleagues who served tea and delicious cakes on the day.
Tue 23rd July 2019 Summer BBQ and Frog Racing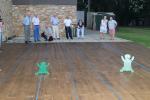 We had been challenged by RC Moseley and Sparkbrook! It was great to have so many of their members join us. Despite the rain showers it was a fun evening. The raffle raised £165 for Friends of Malawi towards more solar lights.
Tue 16th July 2019 - 100 Square Draw

This evening's draw was won by Alan Boulton, who generously donated the funds to the Buddy Bag Foundation.
Tue 16th July 2019 Chris Walker; Buddy Bags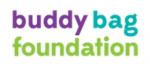 The Buddy Bag Foundation provides children entering emergency accommodation with Buddy Bags to restore a sense of safety and security to their lives.
https://buddybagfoundation.co.uk/
Tue 9th July 2019 Club Meeting
Sun 7th July 2019 - InDOGpendence Day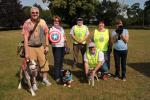 Man's best friend came in all shapes and sizes for our inaugural InDOGpendence Day sponsored walk in Sutton Park. The walk covered a route 2 miles long and raised over £1300 for Birmingham Dogs' Home. www.birminghamdogshome.org.uk
Tue 2nd July 2019 Business Meeting
future
calendar
district events
local events