Completed meetings and events 2018-2019
Thu 21st February 2019 Meeting With A Speaker
Barnardo's Children Services with Rachel Grant promoting President John's main nominated charity.
Thu 14th February 2019 Club Meeting
Program to be advised
Thu 7th February 2019 Meeting With A Speaker
150 Years of the London Underground with Steve Roberts
Thu 31st January 2019 Club Business Meeting
The venue for this meeting is The Carpenters Arms Bransgore
Thu 24th January 2019 Dinner Only Meeting
On this day there is an afternoon visit then return to Club venue for dinner.
Thu 17th January 2019 Meeting With A Speaker
The Dorset Victoria Crosses 1856 -1940 with Kevin Patience
Thu 10th January 2019 Committee Meetings
Club Committee Meetings
Thu 8th November 2018 Club Meeting - Speaker Shaun McCormack
The Queen's Bodyguard of the Yeoman of the Guard
Thu 1st November 2018 Club Meeting
Committees Meeting
Sat 27th October 2018 District Council Meeting
At Mountbatten School, Romsey
Thu 25th October 2018 Club General Meeting
General Meeting of Highcliffe Rotary Club
Thu 18th October 2018 Club Meeting - Brother's Bowl
Golf Competition during Day and Evening Meeting with partners with Speaker Rotarian Patricia Todd - Publishing My Memoirs
Fri 12th October 2018 - Sun 14th October 2018 District Conference at Fort Regent, Jersey
Details on District Web Site
Thu 11th October 2018 No Club Meeting

No Meeting - Day Before Conference
Thu 4th October 2018 Club Meeting at The Carpenter's Arms, Bransgore
Dingbats Quiz with John Nicholls & Tony Carpenter
Thu 27th September 2018 Club Business Meeting
Business- Reports from Committee Chairs required to be circulated to all members before the meeting
Thu 20th September 2018 Club Meeting - Speaker John Webster
Grandma flew Spitfires
Mon 17th September 2018 Club Council - Con Club NM
Items to be discussed at Council to be advised in writing to Secretary one week ahead
Thu 13th September 2018 Club Meeting - Speaker Ian Jones Bournemouth University
Universities role in Local Community and the Challenges ahead
Wed 12th September 2018 - Wed 8th August 2018 Group 3 Meeting - Elm Tree Inn Ringwood
With ADG and other Rotary Clubs
Thu 6th September 2018 Club Meeting - Committees
Thu 30th August 2018 Club Meeting - Speakers Maggie Hardy & Sophie Brown
The Swanage Community Defibrillator Partnership
Thu 23rd August 2018 No Club Meeting

Scatter to other clubs
Thu 16th August 2018 Club Meeting - An Evening of Poetry
Something different something Cultured?
Thu 9th August 2018 Club Meeting - Speaker - Eddie Curry - NM Advertiser
Looking Back and Looking Forward
Thu 2nd August 2018 Club Sports Evening
Boules with Partners at Hordle.
Sat 28th July 2018 Highcliffe Community Charity Fete

Annual Summer Community Charity Fete in Highcliffe.
Highcliffe Recreation Ground.
read more...
Fri 27th July 2018 Loading for Fete - Windmill House
Thu 26th July 2018 Club Meeting - Business
Thu 19th July 2018 Club Meeting - DG and Bransgore Visiting
Visit by DG Allan Smith - Joint with Bransgore Rotary Club.
Mon 16th July 2018 Club Council - Con Club NM
Agenda
Sat 14th July 2018 The Mission to Seafarers - Quiz - St Marks Church Hall
Quiz Rotary Members needed to help out Jackie Petersons Team.
Thu 12th July 2018 Club Meeting: Speaker John Wren - Our German Kings
Wed 11th July 2018 Tools for Self Reliance Garden Party
Netley Marsh SO40 7GY
Tue 10th July 2018 Club Outing - River Cruise to Wareham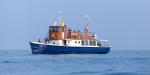 Joint event with other Groups. Fish and Chip Supper Wareham Quay.
Fri 6th July 2018 District 1110 Handover Meting
IBM Hursley Park Winchester SO21 2JN
Thu 5th July 2018 Club Meeting - Committees
future
calendar
district events
local events