Future meetings and events
Thu 7th February 2019 at 10.50 - 10.50 Young Chef 2019

The annual Rotary Young Chef Competition takes place February 7th.
Fri 15th March 2019 at 09.00 - 14.55 Rotary Technology Tournament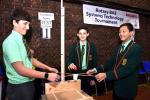 The Annual Rotary Technology Tournament will be held March 15th.
Sun 9th June 2019 at 06.00 - 15.00 Ribble Valley Ride

Clitheroe and Accrington Rotary Clubs invite you to join this major fundraising event through magnificent countryside.
Sun 16th June 2019 at 08.00 - Wed 19th June 2019 - 19.00 Rotary Trip to Cambridgeshire.

Please join us on our annual trip. This year we will be visiting Cambridge, Duxford Air Museum, Tne National Arboretum and Ely Cathedral.
Wed 26th June 2019 at 09.00 - 17.00 Rotary Golf Day

Our joint annual Golf day, with RC Blackburn will be held at Pleasington Golf Club, Blackburn, June 26th 2019. Contact Geoff Isherwood or Sandy Morrison for further details.