Future meetings and events
Thu 24th January 2019 at 13.00 - 14.15 Philip and Lorraine George: The Rob George Foundation
Tue 29th January 2019 at 19.00 - 21.30 Youth Speaks - Chelmsford heats at Hylands School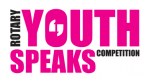 Our local heats of Rotary's national Youth Speaks competition
Thu 31st January 2019 at 19.00 - 21.30 Arti Trivedi: British Heart Foundation
Tue 5th February 2019 at 18.00 - 19.00 Council Meeting
Thu 7th February 2019 at 13.00 - 14.15 Business Meeting

Thu 14th February 2019 at 13.00 - 14.15 Nik Read: Big Picture Charity Films
Big Picture Charity Films help charities raise awareness of their causes.
Thu 21st February 2019 at 13.00 - 14.15 Ben Newman Wright: CHARMS
Established in 1984, CHARMS (The Essex Therapy Centre) was registered as an Independent Health & Care Provider. They support patients and carers throughout their lifespan via self-help and tailored services.
Thu 28th February 2019 at 13.00 - 14.15 Tony Tuckwell: Queen Mary's Association with New Hall
Tony Tuckwell, retired headmaster of KEGS, is an author who has published books about Chelmsford Cathedral and New Hall.
Sat 13th April 2019 at 19.30 - 22.30 Quiz Night
Quiz Night at the Writtle Sports and Social Club in aid of Essex Dementia Care