Future meetings and events
Tue 27th February 2018 at 12.30 - 14.30 Speaker Ray Stokes (SSAFA). Host John Lipscombe
Ray is coming to tell us about the work of the charity.
Mon 5th March 2018 at 19.00 - 22.30 CLUB DINNER
We will be having our annual Club Dinner at the Sea Hotel again, always an enjoyable occasion. The speaker will be retired Major Anthony Tate on royal ceremonial parades.
Tue 6th March 2018 at 10.30 - 12.30 Council Meeting
Council members will be discussing club business.
Tue 6th March 2018 at 12.30 - 14.30 Business Meeting
Members are advised of discussions at the earlier council meeting.
Tue 13th March 2018 at 12.30 - 14.30 Meeting cancelled.
This will allow members to attend the funeral of Rotarian Charles Westerberg at 10.30 am at South Shields Crematorium.
Tue 20th March 2018 at 18.30 - 21.30 EVENING MEETING WITH PARTNERS AND FRIENDS. Speaker Jane Lowes. Host Pat Emmerson.
Our speaker is Jane Lowes, who will tell us about how she researched her latest book.
Tue 27th March 2018 at 12.30 - 14.30 Speaker. Host George Lomas
Sun 29th July 2018 at 09.00 - 16.00 DRAGON BOAT RACE DAY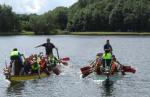 Yes, Another Dragon Boat Race is taking place at Hetton Lyons Park again. A fun Day Out for all the family.
Sat 10th November 2018 at 19.30 - 23.30 President's Night Dinner Dance
President Elect Tony Wortman has already booked the Marriott Hotel, Seaburn for his President's Night. Full details to follow.