Future meetings and events
Tue 26th June 2018 at 12.45 - 14.15 Speaker Elizabeth Wortman - Review of the year. Host Brian Franklin
President Elizabeth will give us her view on the year before she hands over to the next President - who happens to be her husband! Follow that Tony!
Tue 3rd July 2018 at 12.45 - 14.15 Club Assembly
Committee Chairmen will advise the club of their plans for the year ahead.
Sun 29th July 2018 at 09.00 - 16.00 DRAGON BOAT RACE DAY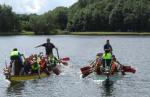 Yes, Another Dragon Boat Race is taking place at Hetton Lyons Park again. A fun Day Out for all the family.
Sat 10th November 2018 at 19.30 - 23.30 President's Night Dinner Dance
President Elect Tony Wortman has already booked the Marriott Hotel, Seaburn for his President's Night. Full details to follow.