Future meetings and events
Mon 23rd October 2017 at 19.45 - 21.45 Weekly Meeting

Official visit by DG Len Burns.
Tue 24th October 2017 at 10.00 - 15.00 Planting Crocus Corms on World Polio Day

Local scouts and cubs will join Rotary members to plant purple crocus corms in the village green to mark World Polio Day
Mon 30th October 2017 at 19.45 - 21.45 Weekly Meeting
This is a partners/guest evening. Entertainment by Mike Green - 'Comedy Songs and Victorian Ballads'
Mon 6th November 2017 at 19.45 - 21.45 Weekly Meeting
Monthly Business Meeting
Fri 10th November 2017 at 19.00 - 22.30 Fundraising 'Race Night'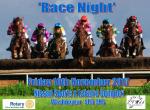 We are holding our annual fundraising Race Night in The Penshaw Suite at the Nissan Sports & Leisure Complex, Sunderland Road, Washington SR5 3NS
An evening of fun and a pie and pea supper included in the ticket price..
Mon 20th November 2017 at 18.30 - 20.30 District Council Meeting
Northumbrian Suite, Old Federation Brewery, Dunston
Mon 27th November 2017 at 19.45 - 21.45 Child Health Africa
Dr's Wariyar and Coulthard visit our meeting to tell us about the 'Child Health Africa' Project. Partners/Guests evening
Mon 4th December 2017 at 19.45 - Mon 11th December 2017 - 21.45 Weekly Meeting
Club Special General Meeting