Future meetings and events
Mon 21st January 2019 at 19.45 - 21.30 Weekly Meeting
General Club Meeting
Mon 28th January 2019 at 19.45 - 21.30 Weekly Meeting
A member of the 3rd Washington Scouts will be coming along to tell us more about The World Scout Jamboree being held in West Virginia, USA.
Mon 25th February 2019 at 19.15 - 21.30 Weekly Meeting

Guest speaker is John Pattison on 'Broken Promises' - a story of the Oglala Sioux
Mon 18th March 2019 at 19.00 - 21.30 Durham Bede Indoor Games Night
This popular annual event will again be held at the Durham Indoor Bowls Centre
Mon 25th March 2019 at 19.45 - 21.30 Weekly Meeting
Guest speaker is Matthew Coombes to tell us about his experiences whilst carrying out voluntary work in East Africa for 'Education Partnerships Africa'
Sun 21st April 2019 at 06.00 - 10.30 Washington Duathlon
Marshalling duties based at the Washington Leisure Centre
Fri 10th May 2019 - Sun 12th May 2019 Rotary in Great Britain & Ireland Conference and Showcase 2019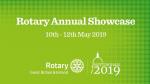 A three-day event based at the Royal Concert Hall celebrating the best in Rotary's local, national and international projects and activities.
Sun 14th July 2019 at 06.00 - 11.00 Washington Triathlon
Event HQ based at The Washington Leisure Centre. Marshalls provided by Rotary.
Sat 9th November 2019 at 19.30 - 23.00 Houghton-le-Spring Rotary Club Dinner
At the Chilton Country Pub and Hotel