Future meetings and events
Mon 1st October 2018 - Mon 30th September 2019 FEED A SCHOOL FOR A DAY
Help us support our sponsored school, The Aisha Memorial School, in The Gambia, our chosen International Project for 2018/19. A £15 donation will feed the whole school for a day.
An IDEAL Christmas or Birthday Gift.
Mon 1st October 2018 - Fri 31st May 2019 YOUTH COMPETITIONS
Are you a budding Writer, Photographer, Chef or Musician? Then you should be participating in the Rotary National Youth Competitions. Click the appropriate link to find out more.
Tue 2nd October 2018 at 18.00 - 20.00 BUSINESS MEETING
Monthly Business Meeting - members only
Tue 9th October 2018 at 18.00 - 20.00 CLUB ACTIVITY - tbc

Activity Week
Tue 16th October 2018 at 18.00 - 20.00 FELLOWSHIP MEETING - YOUTH COMPETITIONS REVIEW

A review of the Young Writer and Young Photographer competitions
Tue 23rd October 2018 at 19.00 - 20.00 Collaboration - 'Purple for Polio' week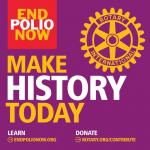 Working with local organisations to plant Crocus Bulbs in support of the Rotary 'Purple for Polio' campaign
Tue 30th October 2018 at 18.00 - 20.00 Beverley Ghost Walk

Join us on a spooky Ghost Walk around Beverley Town. Led by Mike Covell of Amazing Hull Tours.
Tue 6th November 2018 at 18.30 - 18.30 DISTRICT 1040, EAST SOUTH GROUP JOINT MEETING

A joint meeting for all Clubs in the East South Group of District 1040
Fri 9th November 2018 at 19.00 - 22.30 'A Night on the Nile' with Professor Joann Fletcher and Dr Stephen Buckley
Another fascinating journey into the wonders of Ancient Egypt with renowned egyptologist Joann Fletcher and archaeologist Stephen Buckley at Tickton Grange Hotel.