Home | Meetings and Events
Club meetings start at 1230 for 1300(1st&3rd) unless specified.
Mon 27th May 2013 - No Meeting
Bank Holiday Monday
Mon 3rd June 2013 - 12.30pm for 1pm Fellowship
Ass Treas: Richard Hammonds, Rec/Int Toast: Heather Gorringe, Mem News: Mike Lyke
Sat 8th June 2013 at 19.00 - 19.00 An Evening in Paris

Music, Entertainment and Buffet Dinner.
Gardener Hall, Royal National College for the Blind, Hereford, HR1 1EB
Contact Bobbie Heavens: bobbie@bobbieheavens.co.uk
or Judy Harris: conigree@btinternet.com
For enlarged poster please see photo gallery
Mon 10th June 2013 - 6.15pm for 6.45pm Meeting with Speaker

Eye Care in Timor Leste
Ass Treas: Stephen Cummins, Rec/Int Toast: Matt Hayes, Mem News: Lucy Long.
Mon 17th June 2013 - 12.30pm for 1pm Club Assembly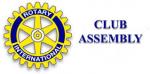 Ass Treas; Ron Giles, Rec/Int Toast: Derek Foxton, Mem News;Kerry Fone.
Mon 24th June 2013 - 6.15pm for 6.45pm Meeting with Speaker
Presidents Finale Evening - Details to be advised