Meet our new President 2016-17

President Graham Leith

Our President's Message

I'm honoured to have been made president of the Rotary Club of South Queensferry for 2016-17. This is an exciting club to be involved in and I'm looking forward to another busy year. We completed our 7th annual Forth Bridge Abseil Challenge on the last Sunday in June where 335 people abseiled for 23 different charities, raising over £112,000 so far. A great achievement by everyone involved and thanks go to all the abseilers and volunteers for making it a great event.

At our Handover meeting on Thursday 30th June, the final presidential duty performed by IPP Kate was to induct new member Kinley Macdonald to the club. I know Kinley will be an asset to the club as he gets involved in our various activities.

Looking forward, we're going to invite representatives from the abseil charities to one of our club evenings so we can thank them for taking part, and probably get a few more photos. Then club members and partners are going to enjoy a social event on Sunday 17th July Ten Pin Bowling. We meet every Thursday evening at 6.45 pm in the Hawes Inn, South Queensferry. Visitors are always welcome. President Graham



FORTH BRIDGE ROTARY ABSEIL GOES WITH A SWING.

Great turn out boosts funds for a range of charities.

Sunday's Forth Bridge Rotary Abseil organised by the Rotary Club of South Queensferry saw 358 intrepid volunteers turn out to drop 165ft from the world-famous landmark in aid of good causes. Now in its seventh year, the event has grown into one of the most significant fundraisers in the district. This year, the principal charities to benefit were Age Scotland and CHAS (Children's Hospice Association Scotland). Each main charity is adopted for two years and spaces are also made available for supporters to abseil on behalf of other local and national charities.

Rotary Club President Kate Gibb, who presented abseilers with certificates, said: 'It has been fantastic congratulating so many people of all ages keen to take the Forth Bridge Rotary Abseil Challenge on behalf of so many charities. The rain later in the day didn't dampen anyone's spirits. It's great that the Queensferry Club can use this amazing bridge, right on our doorstep, to benefit so many good causes. We are grateful to Network Rail for allowing us access to the Forth Bridge, to the hundreds of volunteers who signed up to abseil today and all the people who sponsored them.'

The event attracted a wide range of participants, many of whom brought their own touch of colour to the proceedings. Batman and other superheroes were represented, clothing ranged from shower caps to lounge suits, two guides from the Real Mary King's Close abseiling descended in full historic costume. One lady completed the abseil with a pink inflatable flamingo.

Richard Rattray and his team from Radio Saltire provided music and commentary throughout and broadcast many p.a. interviews in which abseilers gave their often very touching reasons for supporting the charities of their choice.

Rotarian Graham Leith, event organiser, said: 'I must thank our club members who put so much effort into making the abseil a success before and during the event. Thanks also to the numerous volunteer marshals who helped the event run so smoothly. Radio Saltire really kept the day alive with music and commentary.'

Graham Clarkson, chair of the organising committee, said: 'It's wonderful how popular the abseil has become. We are immensely grateful to Network Rail for making it possible to use the bridge. The event is growing year on year and each time we try to add something a little different. For the second year there was a charity village in the grounds of the Hawes Inn, where participants and spectators could find out more about the charities they were supporting. At the end of the day, the event had raised a magnificent £103,500 and this figure will increase as further sponsorship money comes in. Our partners, CHAS and Age Scotland, worked hard recruiting abseilers and it is gratifying that so many other charities were able to benefit too, for example 1st Kirkliston Scouts raised £5,000 towards their new hall. The date of next year's Rotary Forth Bridge Abseil will be confirmed as soon as possible.'

---

Rotary Community Award 2016

Alexander Melville lives in Kirkliston and is a 16 year old pupil at Queensferry High School. He has connections with Rotary as his father, Peter, is a former member of South Queensferry Rotary.


Back in April this year, Alexander went in to a classroom at the High School to print off cue cards for an English presentation. He realised something was wrong when he spotted a teacher choking and pointing to her throat. His first aid training kicked in and he performed the Heimlich Manoeuvre on the teacher. This undoubtedly saved the teacher's life as there was no one else about to help. The teacher thought she was about to die but Alexander's timely intervention ensured a happy outcome on the day. Alexander is an Air Cadet with the 1756 (Broxburn) Squadron. Whilst at camp with the Air Cadets, Alexander undertook a first aid course which was stand him in good stead on this occasion.

Alexander has entered the Rotary Young Musician of the Year Competition on a number of occasions and he has a wonderful singing voice. He sang at this year's Senior Citizens Concert in the High School and wowed the audience with his singing.

He has entered the Rotary Young Chef Competition as well. Obviously he is a very talented young man.

President Kate congratulated him on his quick response which undoubtedly saved his teacher's life and was delighted to award him the Rotary Community Service Award for 2016 in recognition of his actions.

---

Land's End to John O'Groats Cycle Ride

for End Polio Now



Members of the Rotary Club of South Queensferry marked Daniel Barreto's fundraising Land's End to John o Groats fundraising cycle run by escorting him across the Forth Road Bridge on Wednesday 15th June.

Daniel, 35, a member of Portobello Rotary Club, is raising money for Rotary's

End Polio Now campaign - a world-wide multi-agency initiative to eradicate

polio. A university lecturer and keen cyclist, Daniel began his challenge on J

une 6th and will be cycling 1,200 miles in 13 days.

The Rotary Club of South Queensferry has also raised around £1,500 from its International Committee and a further £500 from Foundation for End Polio Now.

---

Kirkliston Primary School, Winners of 2016 Edinburgh and District Primary Schools Quiz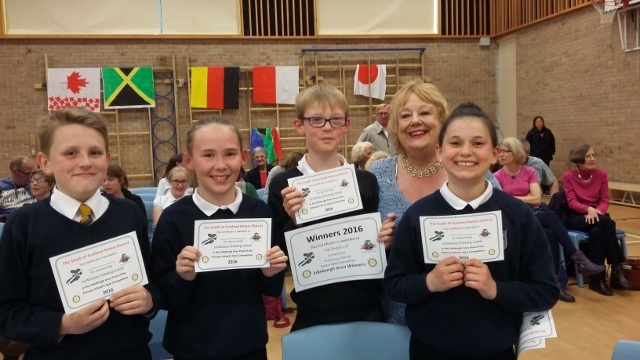 President Kate with our winners from Kirkliston Primary School, Daniel Craig, Lucy Kelly, Mark Henderson and Maria Carter. Well done to our winners!
---
.
The meal and a raffle was followed by Fife group Limelight Musical Theatre, whose polished performance of songs from stage and screen included numbers from Calamity Jane, Sweet Charity and Thoroughly Modern Millie. The evening culminated when Queensferry Brass Band took the stage under musical director Jim Anderson. A wonderful selection of lively and more slow-tempo pieces by the award-winning local musicians brought the concert to a close. In his closing remarks, President Elect Graham Leith said that once more the talent of Queensferry High School sudents and local people, all willing to perform so splendidly had given us another memorable evening. He thanked the performers, the staff of Queensferry High School, Rotarian Robert Farrelly and Toni Roseweir for organising and staging the event, club members and partners for preparing the food and lastly the audience for their active participation and support.smile emoticon
meeting details

In the next 30 days...
Social Media...
Rotary Club of South Queensferry
Promote Your Page Too
Follow @queensferry_s
Meeting Information...
We meet on Thursdays at 1845 (The Club meets at 1845 for 1900 No meetings during Christmas and New Year weeks) The Hawes Inn, Newhalls Road, South Queensferry, EH30 9TA tel: 0131 331 1990