President Graham's July Message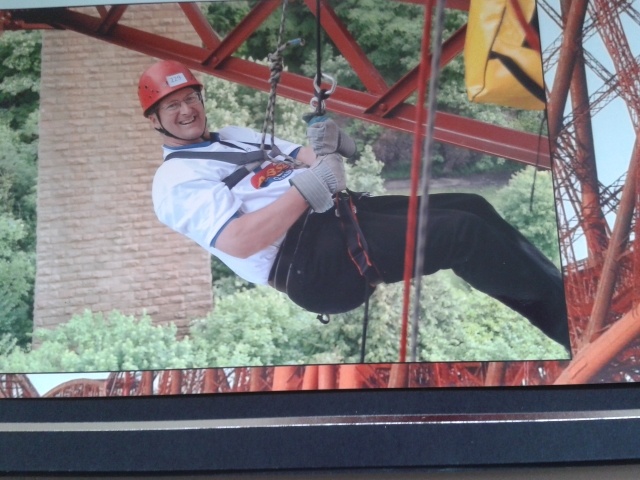 President Graham' s July message
During the first month of the Rotary Year we had speakers at our Thursday evening meetings, talking to us about The Forth Road Bridge, walking around Scotland's mountains and bowel cancer (you can't say we don't have a variety of topics!) One evening we were joined by representatives from some of the charities we worked with on this year's Abseil. It's always enjoyable to talk to the people who make good use of the money raised.
Socially, the Ten Pin Bowling at Deer Park was a great success. Well done to Enrico for having the highest number of points over the two games.
Coming up in August we're scheduled to have a talk on Photography from Alistair Pryde, and Matt Purdie will be entertaining us with his Job Talk. We'll also have one of our popular Fellowship nights when we will be inducting our first new member of the year.
August is the month for our Annual Barbecue for members, partners and guests. We're looking forward to a fun Sunday afternoon at the Forts once again, thanks to Allan Smith.
President Graham Leith
---
FORTH BRIDGE ROTARY ABSEIL PASSES £1/2 MILLION WITH LATEST MAGNIFICENT EFFORT
Great turn out boosts funds for a range of charities.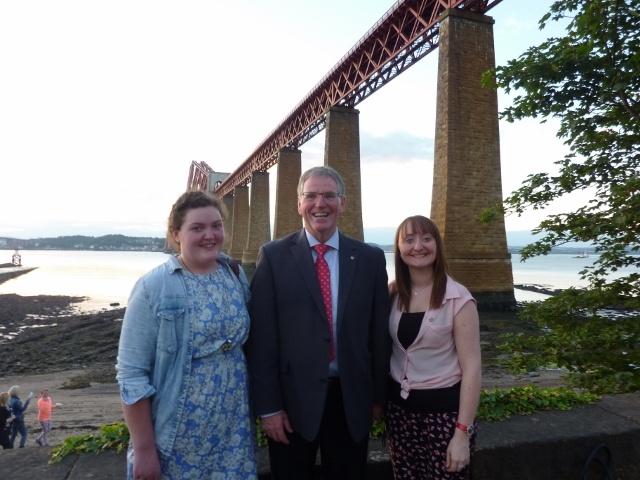 Pic. Graham Clarkson with l. Rebecca Dickson of Age Scotland and r. Laura Campbell of CHAS, this year's adopted charities for the Rotary Abseil.
Rotarian Graham Clarkson, organiser of the Forth Bridge Rotary Abseil, announced that the total raised since the inception of the annual event in 2010 had now topped half-a-million pounds. From a hurriedly-organised alternative when the long-running raft race was cancelled owing to construction work on the Hawes Pier, the event has blossomed into one of the most successful fund-raisers in District 1020. Every year two principal charities are 'adopted' and places are also made available for abseilers to participate on behalf of many other local and national charities.
Laura Campbell, representing CHAS (Children's Hospice Association Scotland) one of this year's adopted charities, said her charity was delighted to be involved in such a professionally organised event. She had received nothing but positive feedback from supporters and participants. Rebecca Dickson from Age Scotland, the other adopted charity, echoed Laura's praise for the event. She said that some of Age Scotland's proceeds from the Abseil would go to supporting Silverline Scotland, a free phone service for older people offering advice, counselling and quite simply friendship in times of need and isolation.



FORTH BRIDGE ROTARY ABSEIL GOES WITH A SWING.

Great turn out boosts funds for a range of charities.

Sunday's Forth Bridge Rotary Abseil organised by the Rotary Club of South Queensferry saw 358 intrepid volunteers turn out to drop 165ft from the world-famous landmark in aid of good causes. Now in its seventh year, the event has grown into one of the most significant fundraisers in the district. This year, the principal charities to benefit were Age Scotland and CHAS (Children's Hospice Association Scotland). Each main charity is adopted for two years and spaces are also made available for supporters to abseil on behalf of other local and national charities.

Rotary Club President Kate Gibb, who presented abseilers with certificates, said: 'It has been fantastic congratulating so many people of all ages keen to take the Forth Bridge Rotary Abseil Challenge on behalf of so many charities. The rain later in the day didn't dampen anyone's spirits. It's great that the Queensferry Club can use this amazing bridge, right on our doorstep, to benefit so many good causes. We are grateful to Network Rail for allowing us access to the Forth Bridge, to the hundreds of volunteers who signed up to abseil today and all the people who sponsored them.'

The event attracted a wide range of participants, many of whom brought their own touch of colour to the proceedings. Batman and other superheroes were represented, clothing ranged from shower caps to lounge suits, two guides from the Real Mary King's Close abseiling descended in full historic costume. One lady completed the abseil with a pink inflatable flamingo.

Richard Rattray and his team from Radio Saltire provided music and commentary throughout and broadcast many p.a. interviews in which abseilers gave their often very touching reasons for supporting the charities of their choice.

Rotarian Graham Leith, event organiser, said: 'I must thank our club members who put so much effort into making the abseil a success before and during the event. Thanks also to the numerous volunteer marshals who helped the event run so smoothly. Radio Saltire really kept the day alive with music and commentary.'

Graham Clarkson, chair of the organising committee, said: 'It's wonderful how popular the abseil has become. We are immensely grateful to Network Rail for making it possible to use the bridge. The event is growing year on year and each time we try to add something a little different. For the second year there was a charity village in the grounds of the Hawes Inn, where participants and spectators could find out more about the charities they were supporting. At the end of the day, the event had raised a magnificent £103,500 and this figure will increase as further sponsorship money comes in. Our partners, CHAS and Age Scotland, worked hard recruiting abseilers and it is gratifying that so many other charities were able to benefit too, for example 1st Kirkliston Scouts raised £5,000 towards their new hall. The date of next year's Rotary Forth Bridge Abseil will be confirmed as soon as possible.'

---

New Members

July and August saw two new members to our club

Kinley McDonald joined us on Thursday 30th June

Irene Brownless joined us on Thursday 4th August

We are delighted to welcome them to our club and look forward to serving the community with them in the years to come.


---
.The Rotary Club of South Queensferry is a Registered Charity in Scotland - No. SC 025363
The meal and a raffle was followed by Fife group Limelight Musical Theatre, whose polished performance of songs from stage and screen included numbers from Calamity Jane, Sweet Charity and Thoroughly Modern Millie. The evening culminated when Queensferry Brass Band took the stage under musical director Jim Anderson. A wonderful selection of lively and more slow-tempo pieces by the award-winning local musicians brought the concert to a close. In his closing remarks, President Elect Graham Leith said that once more the talent of Queensferry High School sudents and local people, all willing to perform so splendidly had given us another memorable evening. He thanked the performers, the staff of Queensferry High School, Rotarian Robert Farrelly and Toni Roseweir for organising and staging the event, club members and partners for preparing the food and lastly the audience for their active participation and support.smile emoticon
meeting details

In the next 30 days...
Social Media...
Rotary Club of South Queensferry
Promote Your Page Too
Follow @queensferry_s
Meeting Information...
We meet on Thursdays at 1845 (The Club meets at 1845 for 1900 No meetings during Christmas and New Year weeks) The Hawes Inn, Newhalls Road, South Queensferry, EH30 9TA tel: 0131 331 1990