President Graham's September Message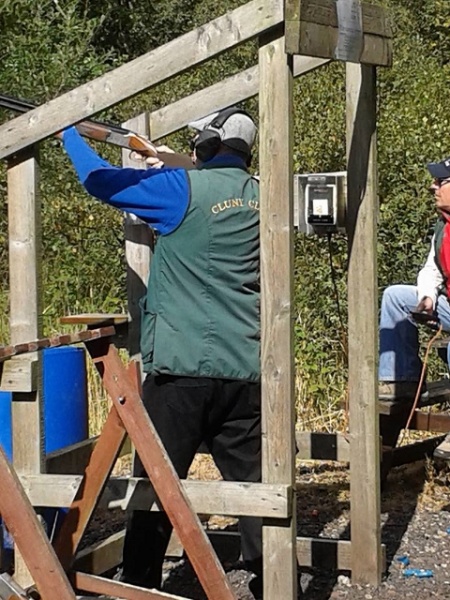 President Graham' s September message
It doesn't seem possible that the Rotary year is already a quarter through, but that's a sign of how busy we are. During September we kept up the high quality of speakers talking to us about Police Training in Sri Lanka, Treating Prostate Cancer, The Kirkliston Gala Day and Nutrition. We always leave the meetings a little wiser than when we arrive.
We competed in the first round of the district quiz against the Rotary Club of Linlithgow Grange and it took a tiebreaker for Linlithgow Grange to triumph – due to Heather's knowledge of Pocahontas music. Good luck to them in the next round. The spirit of competition was also evident at the annual Clay Pigeon Shoot. Best score of the day was by Fiona Willis, daughter of Rotarian Alan Smith. Her skill is all the more impressive when we found out that she's only managed to shoot twice in the past 18 months. Well done to her. The club trophy, awarded to the Rotarian with the highest score was keenly competed but with a bit of luck I just managed to win it.
Well done to several members who went out late one Friday evening as volunteer Marshalls for the Maggie's Crawl. This was supporting the Maggie's Centre organisation who were very grateful for the help from South Queensferry Rotary Club at this fundraising event.
If anything, October is going to be even busier because as well as speakers on Brewing, Queensferry Heritage and the Incorporation of Hammermen (How varied can we get?) we also have our local round of the Young Chef competition on 27th at Queensferry High School. Then we're going out to plant 5000 Purple Crocus corms at a couple of sites around South Queensferry to remember the Rotary End Polio Now campaign, (which has managed to almost eradicate Polio throughout the world). And to top it all a number of us are off to Harrogate at the end of the month for the District Conference, with Sandy and Jim going down a day early to compete in the Golf competition. Good luck to both of them.
As always, if you fancy seeing what we're up to we're always pleased to welcome guests at our weekly meetings in the Hawes Inn, 6:45 for 7pm every Thursday. Come along and enjoy a meal and a chat with us.
President Graham Leith
Rotarians Visit Rachel House
On Tuesday 11 October, four members of the Rotary Club of South Queensferry visited the CHAS facility at Rachel House Kinross.
CHAS was one of the main charities at our abseil in June, and we were invited to visit Rachel House by Laura Campbell, CHAS Community Fundraiser. Our members were given a one-hour tour of all the facilities, support areas, children and family rooms. Laura expressed CHAS's great appreication for the fundraising opportunities given to them through the Rotary Abseil.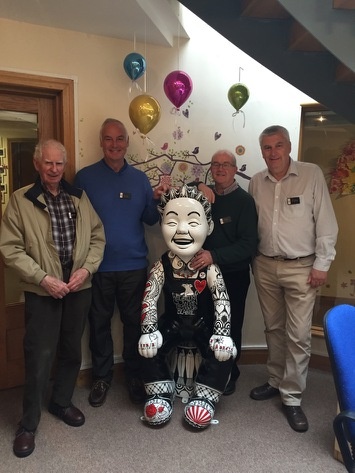 Our photograph shows (from left to right) members Allan Smith, Iain Fairbairn, Oor Wullie, Jim McCulloch and Alan Brown. The five-foot statue of Our Wullie recently formed part of the Oor Wullie Bucket trail in Dundee. Afterwards all the statues of Oor Wullie were auctioned and raised just under £1m for the Archie Foundation's appeal for a new twin paediatric surgical suite for Tayside Children's Hospital. This particular Wullie is on a mini tour of children's hospitals in Tayside after being bought for £20,000 by Briggs Limited, Dundee.
To find out more about the Oor Wullie Bucket Trail visit http://www.oorwulliebuckettrail.com
---
Rotary Quiz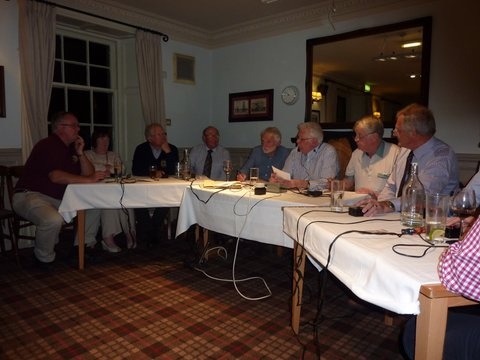 Fellowship was the theme at the Rotary Club of South Queensferry on Thursday 22nd September . The highlight of the evening was a quiz between South Queensferry and the Rotary Club of Linlithgow Grange. Under the watchful eye of quizmaster Jim Boyd from the Rotary Club of Glenrothes and honorary member of South Queensferry, two teams of four answered questions on general knowledge with one specialised Rotary round. After twelve rounds, the score was a draw. Heather McInally won the tie-break for Linlithgow Grange by naming the year in which the colony of Jamestown in Virginia was founded. (Knowing the score of Pocahontas really helped here!) The Linlithgow team goes on to the next round of the District Championship. President Graham Leith congratulated all competitors for such a close-run match. Thanks also go to scorers Gerald Smith and Craig MacKenzie.
---
Annual Clay Pigeon Shoot

A Smashing day at Cluny Clays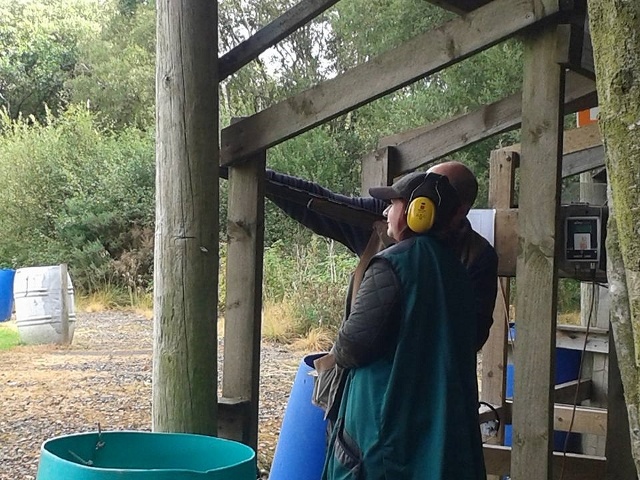 On Sunday 4th September Rotarians and guests visited Cluny Clays in Fife for the club's annual clay pigeon shooting competition. Six Rotarians competed for the trophy which was won by President Graham Leith. Thirteen members and guests took part in the competition. Prize for highest score overall went to Fiona Willis, daughter of Rotarian Allan Smith who organised the competition with Iain Fairbairn. Fiona had not shot for eighteen months owing to the arrival of a baby! A further seventeen Rotarians and guests spectated and a lovely lunch completed a splendid day out. Check out our events page for more photos!
---
We are delighted to welcome new member Pete McHale. Pete joined us on Thursday, 28 August. We look forward to working with him in serving the community in the years to come.


---
.The Rotary Club of South Queensferry is a Registered Charity in Scotland - No. SC 025363
The meal and a raffle was followed by Fife group Limelight Musical Theatre, whose polished performance of songs from stage and screen included numbers from Calamity Jane, Sweet Charity and Thoroughly Modern Millie. The evening culminated when Queensferry Brass Band took the stage under musical director Jim Anderson. A wonderful selection of lively and more slow-tempo pieces by the award-winning local musicians brought the concert to a close. In his closing remarks, President Elect Graham Leith said that once more the talent of Queensferry High School sudents and local people, all willing to perform so splendidly had given us another memorable evening. He thanked the performers, the staff of Queensferry High School, Rotarian Robert Farrelly and Toni Roseweir for organising and staging the event, club members and partners for preparing the food and lastly the audience for their active participation and support.smile emoticon
meeting details

In the next 30 days...
Social Media...
Rotary Club of South Queensferry
Promote Your Page Too
Follow @queensferry_s
Meeting Information...
We meet on Thursdays at 1845 (The Club meets at 1845 for 1900 No meetings during Christmas and New Year weeks) The Hawes Inn, Newhalls Road, South Queensferry, EH30 9TA tel: 0131 331 1990