President Graham's October Message
President Graham' s October message
I was on holiday for two of the meetings in October so thanks very much to President Elect Neil for standing in for me. It was pure coincidence that one of the meetings Neil had to chair was a business meeting – honestly!
I also missed our speaker on Gin production, but I understand he wasn't able to bring any samples. However, I did hear the talk from Gordon Wyllie about the Incorporation of Hammermen. It turns out this is a Guild for craftsmen involved in the working of metal and is one of the ancient trades that give us the 'Trades holiday' in July.
While I was away, a team from the club went out planting 5000 Crocus Corms as part of the End Polio Now campaign so we can look forward to a grand display of Purple flowers as we drive down Hawes Brae in spring. Our Heat of the Rotary Young Chef competition was held in the QHS. Congratulations to winners Rebecca Allsop who won the Gold Medal and Matthew Hart who won Silver, they now go forward to the area final which will be held in Cumbernauld. (The date for this still has to be arranged.)
The highlight of the month has to be, however, the District Conference when 16 South Queensferry Rotarians and partners joined DG Olive Geddes and 440 others at the Majestic Hotel in Harrogate. Everyone had great time. In between the socialising, we were treated to some inspiring, and entertaining talks. It's hard to pick any favourites but, Sir Chay Blyth, talking about his exploits on the open seas, and Lydia Slack, talking about what it was like to grow up as a Hill Farmer's daughter, both had us in tears of laughter on Sunday morning and rounded off the weekend wonderfully. This year the entertainment at the Governor's Ball was Abba tribute band ABBA Forever, and the whole team was up dancing. Pictures from that dance are banned (I hope!). Not forgetting congratulations to Sandy Mackenzie and Jim McCulloch for winning both the Individual (Sandy) and Team Conference Golf trophies – the first time these trophies have come to South Queensferry.
Unbelievably, we start our Christmas activities in November when Santa and his sleigh make the first appearance of the season at the switching on of the Christmas lights in South Queensferry on 24th November. This month we also get a visit from the youngsters who represented at RYLA earlier this year plus a talk from Lady Hopetoun.
As always, if you fancy seeing what we're up to we're always pleased to welcome guests at our weekly meetings in the Hawes Inn, 6:45 for 7pm every Thursday. Come along and enjoy a meal and a chat with us.
President Graham Leith
You can track Santa on his sleigh here
For a larger map click on Santa, below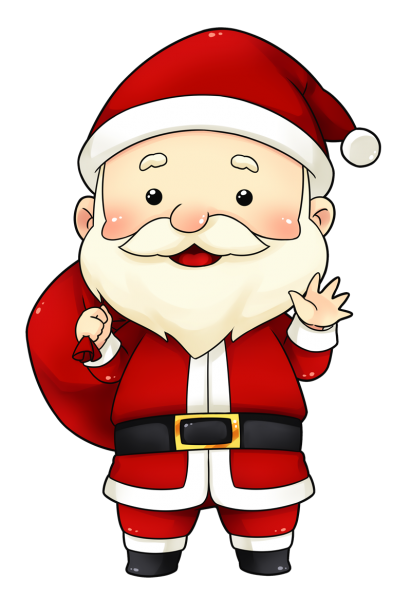 You can see a full list of routes by clicking here
Visit to CHAS at Rachel HouseOn Tuesday 11 October four Rotarians visited Rachel House in Kinross. They were given an excellent tour by community fundraiser, Laura Campbell. It was a great opportunity to see how the money raised through the abseil is being used to benefit very poorly children and young adults and their families. Laura expressed her thanks to the club for running the abseil, which generated much needed income to help maintain the two hospices and the At Home service.
Young Chef Competition 2017Our local round of Rotary Young Chef 2017 was held in Queensferry High School on Wednesday 26 October. The winner was Rebecca Allsop (shown here with VP Neil).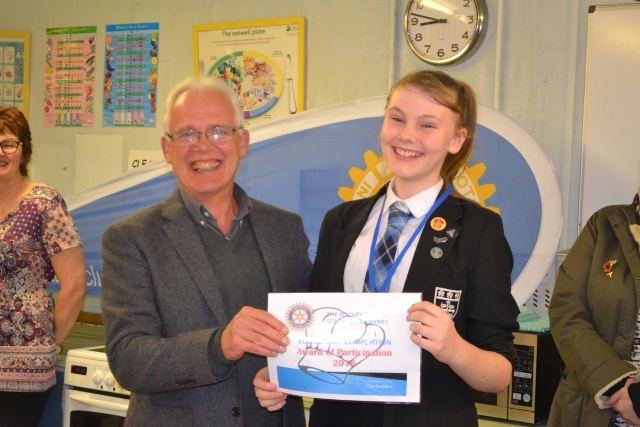 Runner-up was Matthew Hart. They will both go through to the District Final. Our heartiest congratulations to them both. Well done! (I hear the food was deee-licous!)
Annual Clay Pigeon Shoot A Smashing day at Cluny Clays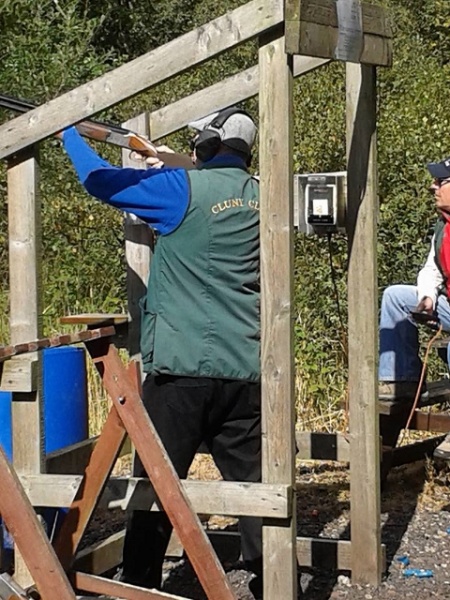 On Sunday 4th September Rotarians and guests visited Cluny Clays in Fife for the club's annual clay pigeon shooting competition. Six Rotarians competed for the trophy which was won by President Graham Leith. Thirteen members and guests took part in the competition. Prize for highest score overall went to Fiona Willis, daughter of Rotarian Allan Smith who organised the competition with Iain Fairbairn. Fiona had not shot for eighteen months owing to the arrival of a baby! A further seventeen Rotarians and guests spectated and a lovely lunch completed a splendid day out. Check out our events page for more photos!
We are delighted to welcome new member Pete McHale.Pete joined us on Thursday, 28 August. We look forward to working with him in serving the community in the years to come.
The Senior Citizens Concert was held at Queensferry High School on Friday 11 March. School pupils were the stars of the first half. The meal and a raffle was followed by Fife group Limelight Musical Theatre, whose polished performance of songs from stage and screen included numbers from Calamity Jane, Sweet Charity and Thoroughly Modern Millie. The evening culminated when Queensferry Brass Band took the stage under musical director Jim Anderson. A wonderful selection of lively and more slow-tempo pieces by the award-winning local musicians brought the concert to a close. In his closing remarks, President Elect Graham Leith said that once more the talent of Queensferry High School students and local people, all willing to perform so splendidly had given us another memorable evening. He thanked the performers, the staff of Queensferry High School, Rotarian Robert Farrelly and Toni Roseweir for organising and staging the event, club members and partners for preparing the food and lastly the audience for their active participation and support.
The Rotary Club of South Queensferry is a Registered Charity in Scotland - No. SC 025363
meeting details

In the next 30 days...
Social Media...
Rotary Club of South Queensferry
Promote Your Page Too
Follow @queensferry_s
Meeting Information...
We meet on Thursdays at 1845 (The Club meets at 1845 for 1900 No meetings during Christmas and New Year weeks) The Hawes Inn, Newhalls Road, South Queensferry, EH30 9TA tel: 0131 331 1990