Rotary Young Musician Competition 2017




We held our annual Young Musician and Vocalist Competition on Tuesday 24 January in Dalmeny Parish Church. It was an excellent evening where 13 young Musicians from Queensferry High School entertained a rapt audience of parents, supporters, family members and several Rotarians.

Eight Instrumentalists and five Vocalists took part ranging in ages from S2 to S6 and all showed a magnificent array of talent. The winners are as follows:

Instrumentalist 1st Place Grace Stroud (S6) , she played Zelda on the Cornet

2nd Place Sam Jones (S2), who played Odessa Bulgar on the Violin

3rd Place Beth Mitchell (S6), who played Nocturen in C sharp Minor on the Piano.

Vocalist 1st Place Lewis Moore (S6), he sang 'You and Me, But Mostly Me

2nd Place Iona Thomson (S6) with She Used to be Mine

3rd Place Kathryn Hope (S5) with I'll be Here.

It was an amazing competition, our local young people have so much talent. Extremely well done to all our participants and hearty congratulations to our winners.

Dalmeny Parish Church proved to be a tremendous venue with with its historic atmosphere and excellent acoustics - and facilities, tea and biscuits were served in the Church Hall after the event!

We have to say a major thank you to our judges Ms Fiona Morrison, Ms Prashanthi Rasaratnam and Mr Aaron Calder, who carried out a very difficult task and to our accompanists Ms Catriona Eunson and Ms Alison Mitchell.

Our thanks also go to RCSQ Junior Vice President Sandy Mackenzie who awarded the prizes and gave the vote of thanks, to Rotarian Jim McCulloch who was compere and our special thanks to Rotarian Craig McKenzie who organised the whole event.

Winners will progress to the City and East Area Final on 15th February at Heriot Watt University.

For more pictures of the winners please go to our Young Musicians page.



---
President Graham's December Message
December was the usual busy month for the Rotary Club of South Queensferry. I hope you managed to see Santa and the Sleigh, with his elves, at least once. We were at Craigies, Hopetoun Garden Centre, Tesco and Scotmid plus the 5 tours around South Queensferry. It was wonderful seeing the excited faces on most of the youngsters when they met Santa, especially when the Sleigh arrived in their street and they got to tell him what they wanted, and received a Lollipop as an early gift. Thanks to everyone who donated to the collection. This year we raised over £3,800 which will be used to support good causes.
We also enjoyed our annual Christmas Carol Concert at Queensferry Parish Church. It looked like there was a typo in the Order of Service but Graham Leith and Rev Graham Leitch really were both there taking part. Well done to all the organisers and musicians for a lovely evening. Our final meeting of 2016 was an interesting recap by Rotarian Alan Armes about his time in Bosnia.
It's hard to believe that I'm now half way through my year as President. The first 6 months have kept us busy but the next 6 months promise to be even busier, with one special activity in the pipeline for 5 or 6 of us - I'll keep you in suspense about it until we get the arrangements finalised.
January keeps up the high standard we expect from the Queensferry club. We start 2017 with our formal evening where the speaker is MSP Alex Cole-Hamilton followed by a speaker's night with Anne Reid giving us a talk titled "Memories and Memory". Then we get together with Partners and Friends at the Annual Burns Supper for an evening of good food and entertainment in celebration of the Bard
As always, if you fancy seeing what we're up to we love to welcome guests at our weekly meetings in the Hawes Inn, 6:45 for 7pm every Thursday. Come along and enjoy a meal and a chat with us.
I hope that everyone has a very happy New Year.
Graham Leith, President, Rotary Club of South Queensferry
---
Abseil from Forth Bridge on 28 May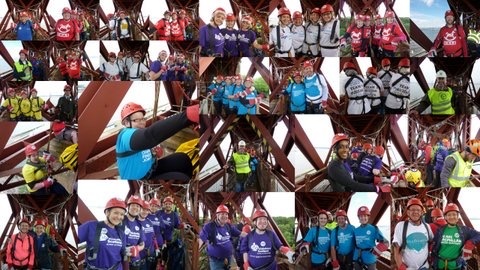 Sunday 28 May is the date for the 2017 Forth Bridge Abseil, courtesy of Network Rail and Balfour Beatty. Age Scotland and The Yard are our main charities, with nineteen additional charities also taking part. You can register for one of the listed charities by visiting our dedicated website. Just click here to register. The cost to register is £30, plus minimum sponsorship of £145. If you require further information, then contact a member of the abseil team here.
---
Burns Supper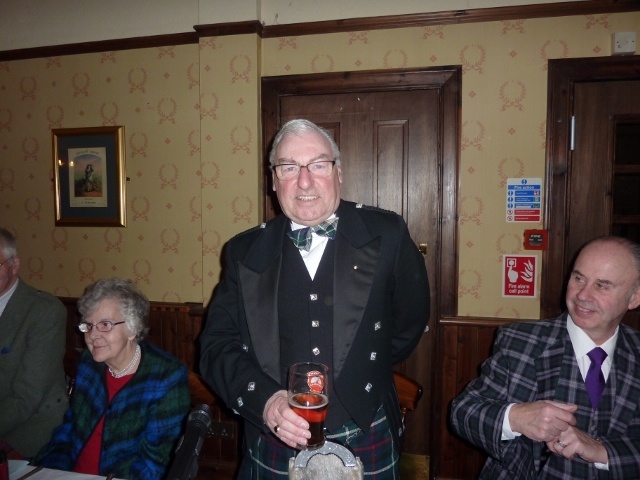 The Newliston Arms was the venue of a splendid Burns Supper held by the Rotary Club of South Queensferry on 26th January. Junior Vice-president Sandy Mackenzie presided over a thoroughly enjoyable celebration of the Bard featuring the considerable talents of club members and their partners. Robbie Brechin's spirited Address to the Haggis set the tone for the occasion. Norman Watson accompanied by his partner, Sheena, sang a selection of songs during the programme and led the whole company in a rousing medley of Burns favourites at the close of the evening.
The Immortal Memory was proposed by Matt Purdie. After confessing that he had attended countless Burns suppers but never given the Immortal Memory, Matt went on to deliver a witty and masterly summary of Burns's life and times. Few were aware that Burns, as a member of the Dumfriesshire Volunteers, had a military funeral. It was the largest Scotland had ever seen with four times the population of Dumfriesshire attending. Burns's youngest son was born on this sad day.
Matt also put Burns into historical context. Memories of the Forty-five Rising, in which Matt's own family was dispossessed, were barely a generation old and still influential in Scotland. The French and American Revolutions stirred Burns's egalitarian instincts and his poems and songs found their way across the Atlantic with the clearances. Because everyone can identify with some of Burns's sentiments, the Bard remains popular all over the world. Politicians of widely differing views can all find something in Burns to support their opinions.
Robbie Brechin then gave a colourful recitation of Death and Dr Hornbrook, perhaps a lesser-known work based on a caricature of Burns's old tutor John Wilson.
David Hull proposed the Toast to the Lassies, revealing the results of some judicious internet research which included the splendid Burns expression 'the friendship of the thighs'. After a ballad by Norman Watson, David's wife Pam replied in equally robust fashion on behalf of the lassies, admitting that Burns proved that women can't resist romantic men.
Robbie Brechin's closing poem, Address to the Unco Guid, was received with universal approval and the evening ended with Auld Lang Syne.
In his closing remarks, Junior Vice-president Sandy passed on good wished from President Graham and his wife Linda who could not attend because of a family bereavement. He also thanked Enrico Prentice, who was also unable to be present, Liz Mackenzie who had stepped into the breach, Alistair Rarity, and everyone who had contributed to the success of the evening.
Meeting Details
Interested in joining Rotary
In the next 30 days...
Social Media...
Rotary Club of South Queensferry
Promote Your Page Too
Follow @queensferry_s
Meeting Information...
We meet on Thursdays at 1845 (The Club meets at 1845 for 1900 No meetings during Christmas and New Year weeks) The Hawes Inn, Newhalls Road, South Queensferry, EH30 9TA tel: 0131 331 1990