President Graham's August Message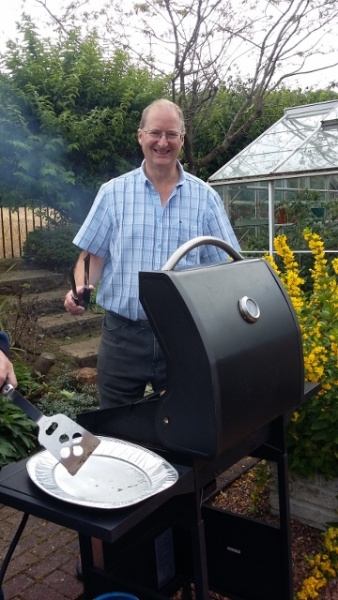 President Graham' s August message
August in the Rotary Club of South Queensferry gave us 2 new members, with Irene Brownless and Pete McHale both being welcomed to the club. I'm looking forward to spending more time with both of them in the many events we hold. Speakerswise we had a job talk from Rotarian Matt Purdie when he told us about his Removals business, and Alistair Pride from Words and Pictures gave us tips on taking good photographs. It was also a month for celebration with 4 birthdays and a Golden Wedding being recognised with either a Glass of wine, or cheese and biscuits.
Our big social event was our annual barbeque. Members, family and friends were welcomed to The Forts thanks to Allan Smith and treated to lovely barbequed food organised and cooked by the social committee. A Treasure hunt and a game of Rounders (who cares about the rules!) kept us entertained in between all the eating and chat.
September will be another busy month with 4 speakers covering an amazing variety of subjects – Police Training in Sri Lanka, Treating Prostate Cancer, Gala Day and Nutrition. We're also welcoming the Rotary Club of Linlithgow Grange for the first round of this year's District Quiz. Good luck to both teams (but especially South Queensferry!).
We'll start the month off with our annual Clay Pigeon Shoot and social event at Cluny Clays in Fife. Always a fun day, but with an edge. Who's going to win the club trophy this year?
President Graham Leith
Annual Clay Pigeon Shoot

A Smashing day at Cluny Clays

On Sunday 4th September Rotarians and guests visited Cluny Clays in Fife for the club's annual clay pigeon shooting competition. Six Rotarians competed for the trophy which was won by President Graham Leith. Thirteen members and guests took part in the competition. Prize for highest score overall went to Fiona Willis, daughter of Rotarian Allan Smith who organised the competition with Iain Fairbairn. Fiona had not shot for eighteen months owing to the arrival of a baby! A further seventeen Rotarians and guests spectated and a lovely lunch completed a splendid day out. Check out our events page for more photos!
---
FORTH BRIDGE ROTARY ABSEIL PASSES £1/2 MILLION WITH LATEST MAGNIFICENT EFFORT
Great turn out boosts funds for a range of charities.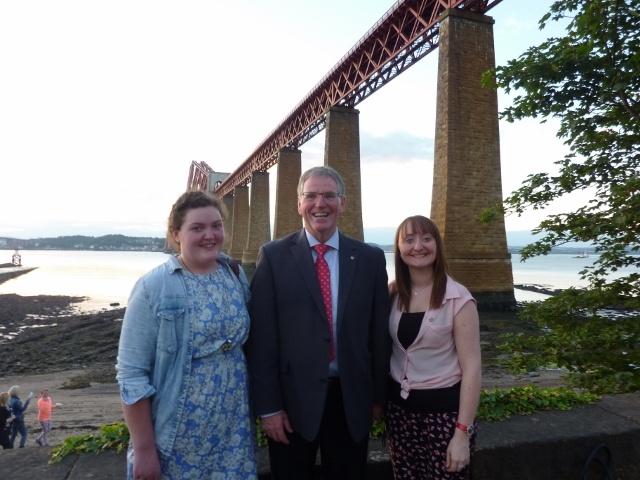 Pic. Graham Clarkson with l. Rebecca Dickson of Age Scotland and r. Laura Campbell of CHAS, this year's adopted charities for the Rotary Abseil.
Rotarian Graham Clarkson, organiser of the Forth Bridge Rotary Abseil, announced that the total raised since the inception of the annual event in 2010 had now topped half-a-million pounds. From a hurriedly-organised alternative when the long-running raft race was cancelled owing to construction work on the Hawes Pier, the event has blossomed into one of the most successful fund-raisers in District 1020. Every year two principal charities are 'adopted' and places are also made available for abseilers to participate on behalf of many other local and national charities.
Laura Campbell, representing CHAS (Children's Hospice Association Scotland) one of this year's adopted charities, said her charity was delighted to be involved in such a professionally organised event. She had received nothing but positive feedback from supporters and participants. Rebecca Dickson from Age Scotland, the other adopted charity, echoed Laura's praise for the event. She said that some of Age Scotland's proceeds from the Abseil would go to supporting Silverline Scotland, a free phone service for older people offering advice, counselling and quite simply friendship in times of need and isolation.
We are delighted to welcome new member Pete McHale. Pete joined us on Thursday, 28 August. We look forward to working with him in serving the community in the years to come.


---
.The Rotary Club of South Queensferry is a Registered Charity in Scotland - No. SC 025363
The meal and a raffle was followed by Fife group Limelight Musical Theatre, whose polished performance of songs from stage and screen included numbers from Calamity Jane, Sweet Charity and Thoroughly Modern Millie. The evening culminated when Queensferry Brass Band took the stage under musical director Jim Anderson. A wonderful selection of lively and more slow-tempo pieces by the award-winning local musicians brought the concert to a close. In his closing remarks, President Elect Graham Leith said that once more the talent of Queensferry High School sudents and local people, all willing to perform so splendidly had given us another memorable evening. He thanked the performers, the staff of Queensferry High School, Rotarian Robert Farrelly and Toni Roseweir for organising and staging the event, club members and partners for preparing the food and lastly the audience for their active participation and support.smile emoticon
meeting details

In the next 30 days...
Social Media...
Rotary Club of South Queensferry
Promote Your Page Too
Follow @queensferry_s
Meeting Information...
We meet on Thursdays at 1845 (The Club meets at 1845 for 1900 No meetings during Christmas and New Year weeks) The Hawes Inn, Newhalls Road, South Queensferry, EH30 9TA tel: 0131 331 1990