Thank You From Santa!

Santa and his sleigh are safely tucked away until next year. We would like to thank all those who came out to support us. The sleigh was a huge success. The money raised this year was £3,810-90. Your generosity will run the senior citizens concert in March. It will also help our young people through the competitions, including Young Musician and Young Chef. It will also pay for RYLA students later in the year.

Thank you all, we wish you all the very best for 2017.
President Graham's December Message
December was the usual busy month for the Rotary Club of South Queensferry. I hope you managed to see Santa and the Sleigh, with his elves, at least once. We were at Craigies, Hopetoun Garden Centre, Tesco and Scotmid plus the 5 tours around South Queensferry. It was wonderful seeing the excited faces on most of the youngsters when they met Santa, especially when the Sleigh arrived in their street and they got to tell him what they wanted, and received a Lollipop as an early gift. Thanks to everyone who donated to the collection. This year we raised over £3,800 which will be used to support good causes.
We also enjoyed our annual Christmas Carol Concert at Queensferry Parish Church. It looked like there was a typo in the Order of Service but Graham Leith and Rev Graham Leitch really were both there taking part. Well done to all the organisers and musicians for a lovely evening. Our final meeting of 2016 was an interesting recap by Rotarian Alan Armes about his time in Bosnia.
It's hard to believe that I'm now half way through my year as President. The first 6 months have kept us busy but the next 6 months promise to be even busier, with one special activity in the pipeline for 5 or 6 of us - I'll keep you in suspense about it until we get the arrangements finalised.
January keeps up the high standard we expect from the Queensferry club. We start 2017 with our formal evening where the speaker is MSP Alex Cole-Hamilton followed by a speaker's night with Anne Reid giving us a talk titled "Memories and Memory". Then we get together with Partners and Friends at the Annual Burns Supper for an evening of good food and entertainment in celebration of the Bard
As always, if you fancy seeing what we're up to we love to welcome guests at our weekly meetings in the Hawes Inn, 6:45 for 7pm every Thursday. Come along and enjoy a meal and a chat with us.
I hope that everyone has a very happy New Year.
Graham Leith, President, Rotary Club of South Queensferry
Abseil from Forth Bridge on 28 May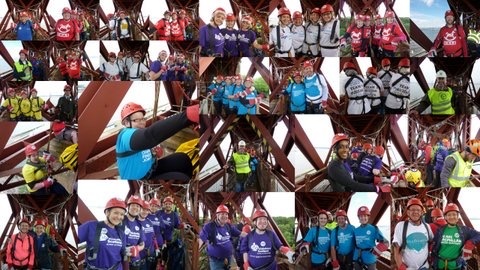 Sunday 28 May is the date for the 2017 Forth Bridge Abseil, courtesy of Network Rail and Balfour Beatty. Age Scotland and The Yard are our main charities, with nineteen additional charities also taking part. You can register for one of the listed charities by visiting our dedicated website. Just click here to register. The cost to register is £30, plus minimum sponsorship of £145. If you require further information, then contact a member of the abseil team here.
Rotary Young Chef Area Finals held in Leith Academy on Friday 25 November 2016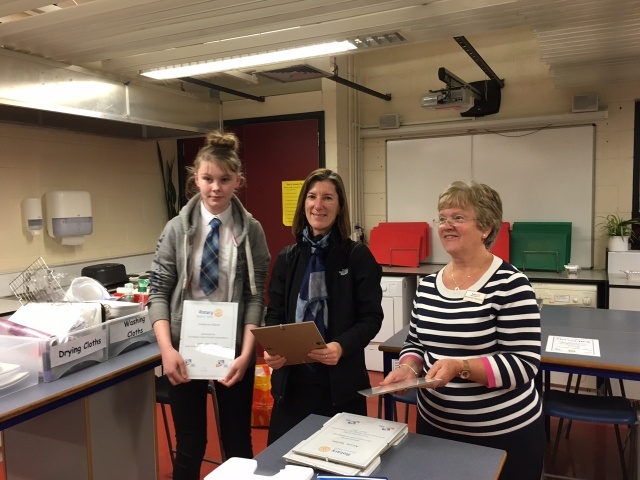 Our photo shows our entrant Rebecca Allsop receiving her certificate of participation from Mary Marquis (far right). Rebecca's skills were excellent but it was both young chefs from Drummond High School who were chosen to represent the area at the District Finals on February 17 1017.
Unfortunately Matthew Hart from Queensferry was unable to participate as he was sitting a college examination.
Many thanks must also go to teachers Rachel Kerr and Eleanor Grandison for supporting all our Queensferry Young Chefs.
Another good day - well worth it for the tasting!!
Meeting Details
Interested in joining Rotary
In the next 30 days...
Social Media...
Rotary Club of South Queensferry
Promote Your Page Too
Follow @queensferry_s
Meeting Information...
We meet on Thursdays at 1845 (The Club meets at 1845 for 1900 No meetings during Christmas and New Year weeks) The Hawes Inn, Newhalls Road, South Queensferry, EH30 9TA tel: 0131 331 1990