President Graham's May Message

We've been so busy that I completely forgot about the message at the end of April, but better late than never I hope. April was almost Job Talk month with two of our newer members, Alistair Rarity and Kinley Macdonald, telling us about their life and careers. It was interesting to find out things we didn't know about these two energetic members. Then our partners joined us for our annual Robert Cleland Photographic Competition, where photos this year had to be on the topic "Ferry Folk and Kirky Folk". The standard was as good as, if not better than usual so it was a hard task choosing a winner for our judge, Alastair Pryde from Words and Pictures, (the local photography business on Queensferry High Street). Well done to the winners Jason Roseweir (1st), Jim McCulloch (2nd) and Gerald Smith (3rd). You can see the winning photos on the club website and Facebook page.

I also had the pleasure to present our first Community Awards of the year to David Hutchison,


Derek Hobson and Marina Shaw. These three are part of the Cleanferry Group that has collected over 1000 bags of litter around Queensferry since it was set up only 1 year ago.

In May so far we've continued the high standard of speakers that we've enjoyed all year. Mike McDowall, who's becoming a regular speaker at the club, took us through the history of Queensferry Harbour and on a similar theme club member Gerald Smith entertained us with a slide show presenting photos of the new Queensferry Crossing (so far). It was interesting to watch as it "grew" out of the water. In between these two presentations Lizzie Dally gave an interesting talk about Venture Trust, a Scottish charity that inspires, supports and encourages people who need help, for various reasons, to achieve more positive futures (it turned out that we are the first group she'd presented to, but it wasn't obvious).

You may remember a few months ago I reported that Queensferry Primary School had won our local heat of the quiz. Well this month they were joined by winners of other heats in the City Area Final, organised by South Queensferry Rotary Club member Jim McCulloch and hosted by South Queensferry Primary School. Unfortunately the local team came third, so don't progress to the District Final, but it was a good evening.

A new venture for the club this year is a Golf competition run on behalf of Queensferry Churches Care in the community. Well done to Club Junior Vice President Sandy Mackenzie and his team who organised a very successful Texas Scramble for golfers from far and near, raising £1100 for QCCC. Well done to all who took part and thanks to Dundas Parks Golf Club for allowing the use of the course.

May is going to close with our annual Abseil off the Forth Bridge on Sunday 28th. Over 340 abseilers and 70 volunteers are taking part. I expect my next message will have a lot more to say about that.

Graham Leith, President, Rotary Club of South Queensferry
Club Photographic Competition 2017
The Robert Cleland Photographic Competition was held at the Hawes Inn on 27 April 2017. Some 60 entries were entered by Rotarians and families and these were displayed to all present. The renowned local professional photographer Alistair Pryde, proprietor of Words and Pictures, 48 High Street, South Queensferry, judged the images and kindly donated a framed picture of the winning image. Alistair produced a short list of 10 images before the top three were announced.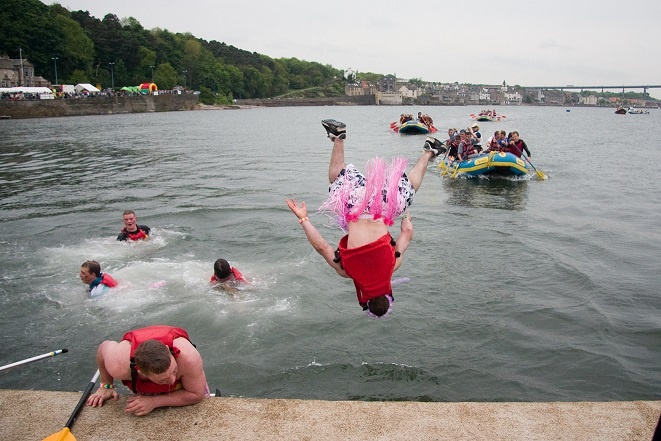 "Yippee" by Jason Roseweir was awarded first place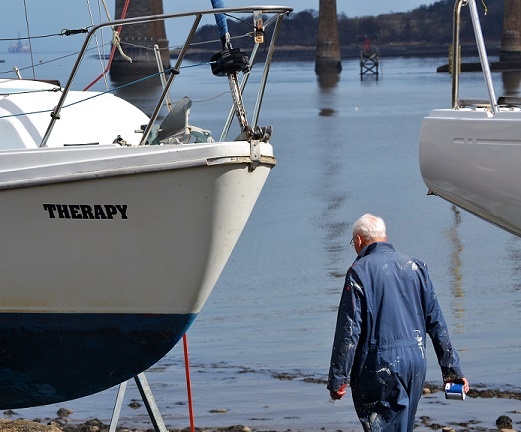 "Therapeutic Painting" by Jim McCulloch was awarded second place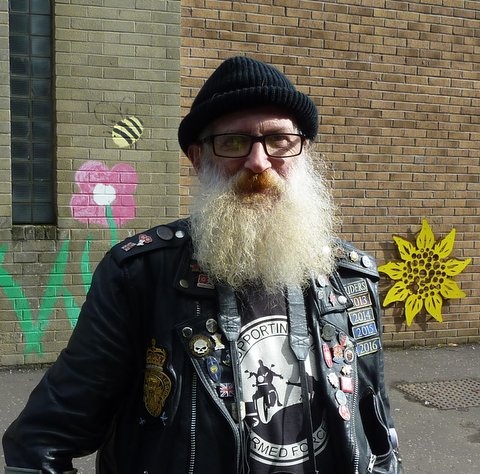 "An Old Campaigner" by Gerald Smith was awarded third place
Alistair explained why he had selected the winning images and announced the topic for 2018 - "Light". Alistair displayed examples of images that embraced the topic of Light and gave many other examples how the topic could be interpreted.
Grainger Falconer, Convenor of the Rotary Club's International Committee, expressed grateful thanks to Alistair for his kind donation and for judging entries.
All monies raised on the evening from entry fees and a raffle will be donated to the Nyumbani Orphanage in Nairobi.
---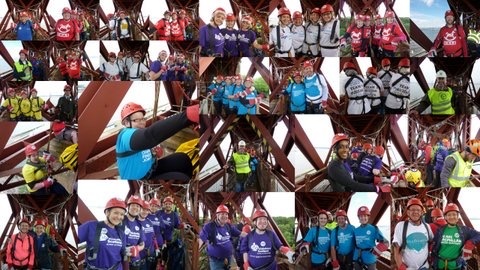 Volunteers needed! If you would like to help us run the event then follow this link
Sunday 28 May is the date for the 2017 Forth Bridge Abseil, courtesy of Network Rail and Balfour Beatty. Age Scotland and The Yard are our main charities, with nineteen additional charities also taking part. You are now too late to register for this year, as we have completely sold out. You can still visit our dedicated website for information on the event. Just click here to visit the site. If you require further information, then contact a member of the abseil team here.
---
Rotary Service Awards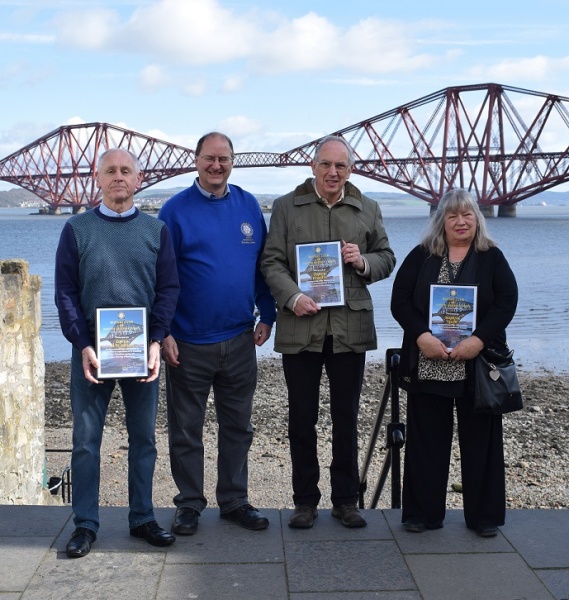 On Saturday morning as part of the first year anniversary celebrations of the CleanFerry group being formed our local Rotary Club President Graham Leith presented 3 Rotary Community Awards to key members of the CleanFerry Team. These were to David Hutcheson for his drive and determination in establishing and leading the group who have collected over 1173 sacks of rubbish across the town in the last 12 months! Also receiving awards were Marina Shaw and Derek Hobson. Marina ( and her mum) and Derek are stalwarts who as well as participating in the regular "litter blitzes" go out each week, often more than once a week, to ensure their "patches" of the Ferry remain litter free . We are indebted to these wonderful volunteers and indeed to all the CleanFerry helpers for keeping our lovely town litter free.
For more photos go to our Rotary Service Awards 2017 page.
Meeting Details
Interested in joining Rotary
In the next 30 days...
Social Media...
Rotary Club of South Queensferry
Promote Your Page Too
Follow @queensferry_s
Meeting Information...
We meet on Thursdays at 1845 (The Club meets at 1845 for 1900 No meetings during Christmas and New Year weeks) The Hawes Inn, Newhalls Road, South Queensferry, EH30 9TA tel: 0131 331 1990