Abseil 165ft ... have the thrill of a lifetime ... and ...

raise money for your favourite charity.



The Forth Bridge Abseil takes place each year, courtesy of Network Rail.


The next event will take place on Sunday 26 June 2016. You can only abseil for one of the charities listed. The two main charities are Age Scotland and Children's Hospice Association Scotland (CHAS).

Registration for the event is now open. Please read the Terms and Conditions before you register. A copy will be included in the email sent to you after you register. To register for the event click

here


Thank you for supporting the Rotary Club of South Queensferry.

---

ROTARY GLOBAL SWIMARATHON 2016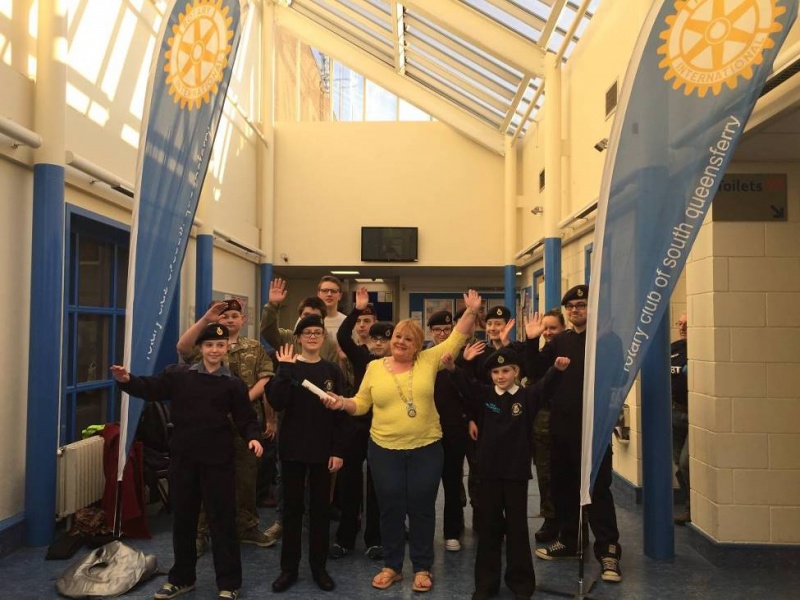 BOOSTS FIGHT AGAINST DISEASE
Congratulations to everyone who took part in the Rotary Global Swimathon 2016 at Queensferry High School Leisure Pool on Saturday 19th March. Thirty-five competitors, individuals and teams from local organisations, raised £1,155 for Rotary's End Polio Now campaign with further sponsorship money still to come. In partnership with the Bill and Melinda Gates Foundation, End Polio Now is making great strides to eradicate this terrible disease. President Kate Gibb said: 'What a magnificent effort from all concerned - those who took part - who sponsored competitors and who helped on the day. This was a world-wide event with people uniting to fight polio through swimming. Many thanks to everyone.'
All sponsorship money goes to END POLIO NOW

The Schools which participated:

Queensferry Primary School
Dalmeny Primary School
St Margaret's Primary School
Echline Primary School
Total number 25 pupils

Queensferrry & District Sea Cadets 13 cadets

What a tremendous total for 38 young people. Well done everyone!
---
DOWN MEMORY LANE WITH A SWING!
A wide range of music was the keynote of the annual Rotary Senior Citizens' Concert held at Queensferry High School on Friday 11th March. Host Dr Douglas Stuart introduced a line up of talent of all ages from Queensferry and further afield. First up were eight soloists from Queensferry High School including Iona Thomson on piano, singer Andrew Melville, Samantha Tulloch on euphonium and violinist Andrew Stroud. Music ranged from traditions songs through classical pieces to a Hungarian csardas, proving not only the talent of the students but the effectiveness of teachers Cat and Ally who introduced and accompanied the performers.
The mood changed to folk music when Home Groan - a group of ladies from the choir Ferry Blend - took the stage. Accompanied by guitar, drum and bioran, their repertoire brought back many memories and had the capacity audience singing along.
The meal and a raffle was followed by Fife group Limelight Musical Theatre, whose polished performance of songs from stage and screen included numbers from Calamity Jane, Sweet Charity and Thoroughly Modern Millie. The evening culminated when Queensferry Brass Band took the stage under musical director Jim Anderson. A wonderful selection of lively and more slow-tempo pieces by the award-winning local musicians brought the concert to a close. In his closing remarks, President Elect Graham Leith said that once more the talent of Queensferry High School sudents and local people, all willing to perform so splendidly had given us another memorable evening. He thanked the performers, the staff of Queensferry High School, Rotarian Robert Farrelly and Toni Roseweir for organising and staging the event, club members and partners for preparing the food and lastly the audience for their active participation and support.smile emoticon
meeting details

In the next 30 days...
Social Media...
Rotary Club of South Queensferry
Promote Your Page Too
Follow @queensferry_s
Meeting Information...
We meet on Thursdays at 1845 (The Club meets at 1845 for 1900 No meetings during Christmas and New Year weeks) The Hawes Inn, Newhalls Road, South Queensferry, EH30 9TA tel: 0131 331 1990