The Rotary Club of Grimsby was chartered in 1930
Grimsby is the country's premier fishing port and a leading centre for food processing. Chemical factories and other industries lie along the Humber estuary. Grimsby is also an administrative and service centre and provides the main shopping and educational facilities for much of northern Lincolnshire. Pop. 87,574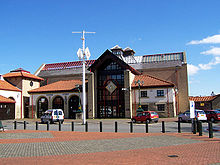 Rotary is a worldwide organization of more than 1.2 million business, professional, and community leaders. Members of Rotary clubs, known as Rotarians, provide humanitarian service, encourage high ethical standards in all vocations, and help build goodwill and peace in the world.
There are 33,000 Rotary clubs in more than 200 countries and geographical areas. Clubs are nonpolitical, nonreligious, and open to all cultures, races, and creeds. As signified by the motto Service Above Self, Rotary's main objective is service " in the community, in the workplace, and throughout the world.
GRIMSBY DOCK TOWER ABSEIL
IMPORTANT NOTICE.
Associated British Ports have to carry out work on the outside of the Dock Tower during this year. Therefore, regrettably, we will not have access this year for a Dock Tower Climb or Abseil.The good news is that we will
be able to have this event in 2015.Keep your eye on the web site for updates.
Annual charity collection at supermarkets.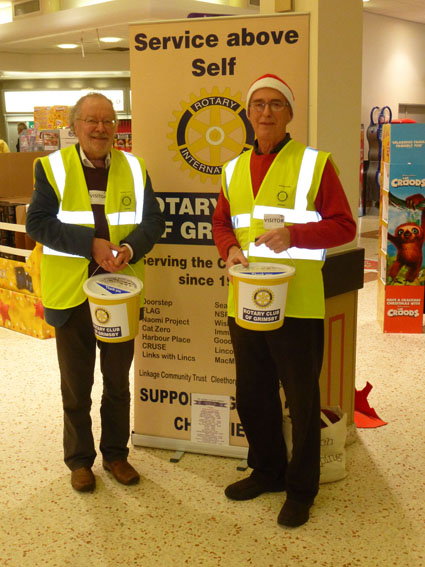 Two rotarians with collecting buckets at a supermarket.As a result of the genorousity of the public we collected £2,500.Over the past nine years the club has raised through charity events £180,000.See report for more details
Working at the Mencap garden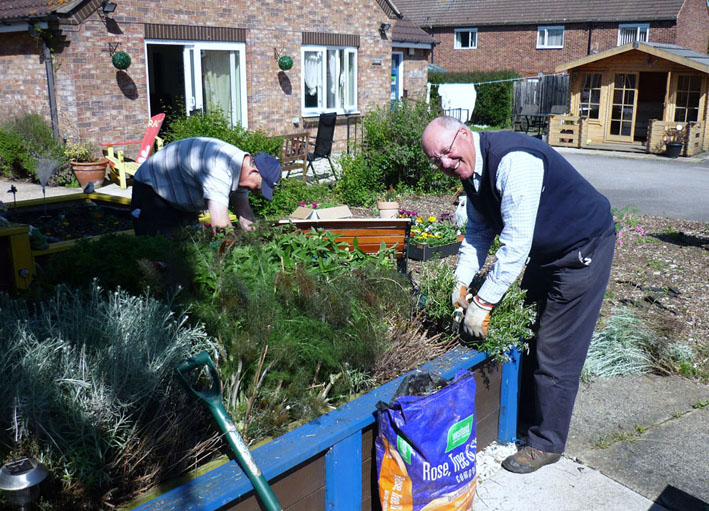 Rotarian Stuart getting stuck into gardening(see report,for more details).
Gardening at Child Development Centre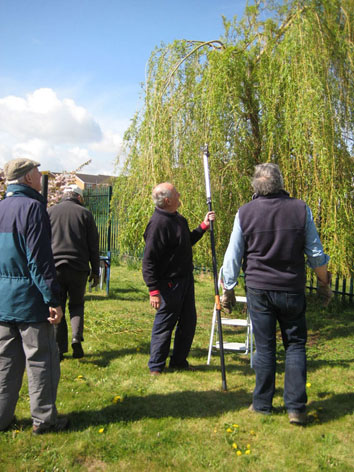 The team leader decides how best to prune the tree.(see report for further information)
SHELTER BOX.
The Club has sent Shelter boxes to the Phillipnes (Typhoon Haiyan) and for the refugees from Syria.The box contains a tent and useful equipment for people.We have received a thank you letter frrom Shelterbox.See report.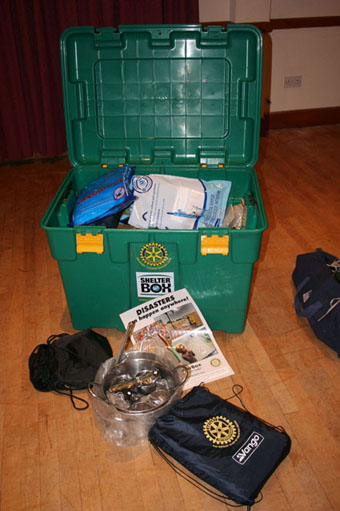 Thinking of becoming a Rotarain?
If you would like to know more about the Rotary club of Grimsby ,please contact John Durham on 01472 322168.