PLEASE NOTE:-
Tuesday 16th September. No Club meeting at Marygreen Manor as this is a scatter week.
Monthly Quiz Dates 26th September, 24th October, 21st November.Click for details
Tall Ships Event 7th September 2014 To Book on Line select Coach Pick-Ups
The Rotary Club of Brentwood was first formed in 1932 and presently has over 40 members. We meet weekly at The Marygreen Manor , Brentwood at 6.15pm on Tuesdays.
The club promotes friendliness and good fellowship, both for fun and banter, but with a greater cause in mind, helping those less fortunate than ourselves.
If you are interested in the on coming to our meetings and the giving up of a couple hours of your time a week to a fantastic cause that will warm your heart and sould contact the Membership Secretary.
Please select "membership" in the left hand menu for further details.

Kindest regards.
Jake Dobson
Membership Secretary
membership@brentwoodrotary.org.uk


In the next 30 days...
Sunday 7th September 08.45

Tall Ships Sunday 7th September 2014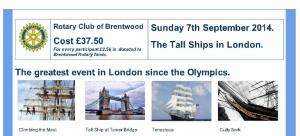 The Tall Ships Festival 7th September 2014.
Includes local coach pick ups.
Thames River cruise viewing Tall ships.
read more »
Tuesday 9th September

Speaker: Karen Lehner - Barrow Farm Ridding for the Disabled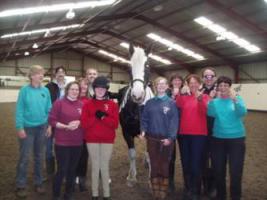 Barrow Farm located near Blackmore.
Providing riding opportunities for 120 disabled adults and children every week.
http://www.barrowfarmrda.org.uk/
Monthly Quiz Nights Held at:-
The Courage Hall
Brentwood School
Middleton Hall Lane
Brentwood
CM15 8AS
read more »